Bobrisky set to pepper Instagram with new body after liposuction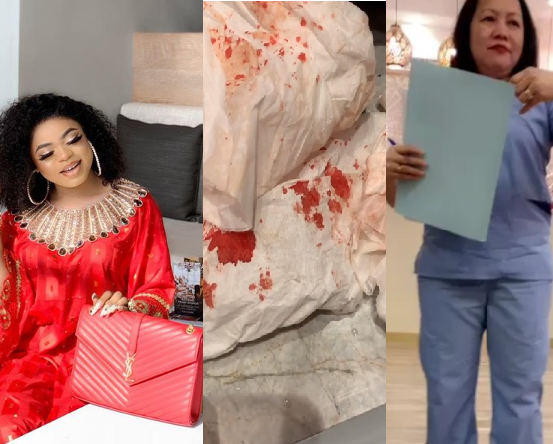 Bobrisky is getting a new body following his liposuction surgery and he has shared graphic pictures from the procedure.
The Nigerian cross-dresser took to Instagram over the weekend to share a photo of himself signing a form ahead of his liposuction surgery. He revealed he was afraid of the outcome.
He wrote:
I'm scared…. surgery time.
Wish me goodluck. I just signed . I pray nothing happen to me after dis surgery
The surgery is over now and he took to Instagram to keep his followers updated.
He shared a video of the bloody bedclothes used during his surgery and told his followers the procedure was not an easy one.
He wrote:
Liposuction is not easy mehnnn…. all my body is swollen. I'm bleeding little by little. I can't wait to show you guys my new body. I can't sit in my buttocks for one month ????. I'm glad I did dis surgery outside Nigeria. Can't wait to flaunt my new body