Aubameyang adds £240,000 Lamborghini Huracan to his car collection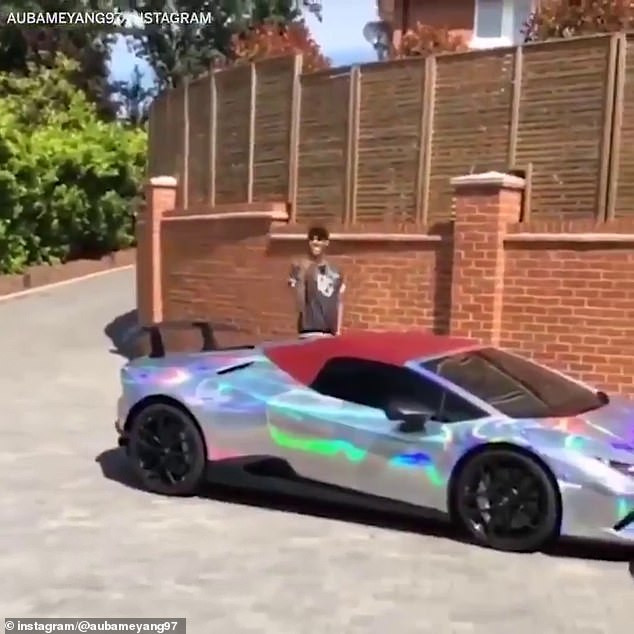 Arsenal and Gabonese striker,  Pierre-Emerick Aubameyang  has added a new whip to his collection of luxury vehicles. The player who earns £198,000-a-week has added a customized £240,000 Lamborghini Huracan to his incredible car collection now worth £2.1MILLION.
30-year-old Aubameyang also owns three different high-end models of Ferraris, two Audi R8s and an Aston Martin took to his Instagram story to show off his new luxury whip.
Aubameyang has got a new toy 🔥 pic.twitter.com/o8JbQocTaK

— ESPN UK (@ESPNUK) July 10, 2019
Check out the full list of AUBAMEYANG'S SUPERCARS
Lamborghini Huracan Performante Spyder – £240,000
Porsche Panamera Turbo Techart – £140,000
Lamborghini Aventador – £270,000
Ferrari 812 Superfast – £250,000
Range Rover Sport Mansory – £150,000
Audi R8 V10 Plus – £128,000
Aston Martin DB9 Volante 2 – £140,000
Ferrari 488 Spider – £205,000
Porsche Panamera Mansory C One – £113,000
Volkswagen Beetle Cabriolet – £22,000
Porsche Cayenne Techart Magnum – £60,000
Ferrari 458 Italia – £200,000
Audi R8 2013 – £128,000
Lamborghini Gallardo LP560-4 – £141,000
AD: WAEC SUCCESS GUARANTEED! Gain access to FREE PAST QUESTIONS AND ANSWERS of WASSCE [CLICK HERE]

Follow us on Instagram | Advertise With Us | Send Us News Tips | Promote Your Music

Jaruma gives BBNaija's Ella N600k for her mother's medical treatment
Nigeria's Number one sex therapist, Jaruma is a businesswoman and so much more. She gave BBNaija's Ella 600k for her mother's medical treatment.
Big Brother reality star, Ella, has been having financial issues when it comes to her mother's medical treatment.
The BBNaija star took to social to appeal for N600k to help finance her mother's treatment. She said: "This is a cry for help. Please, mama, my mom needs you".
The sex therapist immediately reacted to the post, as she asked her how much she needed.
Ella came back with gratitude to some other housemates who helped.
She wrote:
 "Former Big Brother Naija housemate
Thank u @jaruma_empire I didn't even think I was worthy enough to ask and no my account wasn't hacked…I sent out an SOS call to @jaruma_empire and all my @bigbronaija housemates today….yes I did

"I love my mum that much she gave her life for all her 4 children and if asking was going to save her I will, I couldn't do it on my own and God won't come down from heaven, he will appoint people here on earth to help. I want to thank @official_mercyeke @gedoni @fugganugga @diane.russet @sholzy23 and everyone who supported and called and prayed …thank u ..as u have done for my household God will do the same to all of u .. I have received the 600k from @jaruma_empire thank u for being you …i felt happy when you called u are really an angel. Can't wait to meet u, mama. My mother can now get the medical care she needs."
God bless my mum.. #ellians".
AD: WAEC SUCCESS GUARANTEED! Gain access to FREE PAST QUESTIONS AND ANSWERS of WASSCE [CLICK HERE]

Follow us on Instagram | Advertise With Us | Send Us News Tips | Promote Your Music