Adefarasin challenges FG on poor infrastructure at the Spirit Life Conference's opening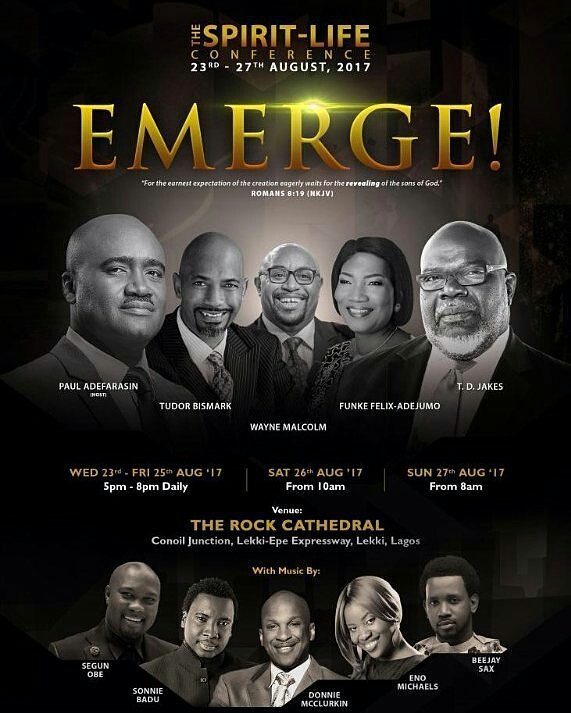 The senior pastor of the House On The Rock Churches, Pastor Paul Adefarasin, yesterday in Lagos, declared open this year's annual conference of his church: "Spirit Life Conference", with a charge on the government to improve the state of infrastructure in the country.
Adefarasin equally challenged Christians particularly and Nigerians generally on the same issue, saying development in a country would remain a far cry so long there is no conscious effort at investing in intellectual and physical infrastructure.
Speaking on the opening day of the conference, which is themed: "Emege"; he said it is the availability and deliberate optimisation of infrastructure that brings about real development in a nation.
According to him, Nigeria and other under-development countries are in their quagmire because of failure to get their acts together, key being in taking care of human capacity.
Adefarsin said the programme had been organised to help participants redress their errors adding that the time had come for those who know their worth in the body of Christ to emerge, not for just themselves, but because of the purpose they are to fulfil in Nigeria.
According to him, there is an anointing for the kind of infrastructural development he is referring to, and for the government to take Nigeria out of the woods, it must begin to put down money consciously for its development.
Alongside, it must also begin to prosecute corrupt officials to make way for effective harnessing of the country's resources, he observed
"God is not in the business of giving money to those who do not know what to do with it. He wants us wealthy, he wants us influential, but we must also be ready before such could happen".
The Senior Pastor made references to some of the world's leading billionaires – Mike Zukerbeg, the founder of face book; Bill Gates, the founders of Amazon and Google – as examples of transformational individuals who deployed their inert abilities to maximum advantage, and are now using it to improve their societies.
This he said had not only brought them fame and global recognition, but wealth such that while nations like Nigeria are broke, these people are dashing away their wealth just to support indigent people around the world.
He therefore urged his audience to rise up to the challenge and make marks in their time.
But to become people of substance, he admonished them on the virtues of humility, and preparation, without which one may not be able to bear, much less rise to position of importance.
Adefarasin cited Joseph, Moses, David as examples of bible characters who brought about a change in their time, but added that each did not just emerge, but had a period of waiting and preparation.
"You can be very much anointed and still not emerge, or occupy positions without making impact; but after this conference, I see you emerging", he charged.
The man of God also expressed concern about the Pentecostal movement in the country that it had not made impacts commensurate with its growth in size and its big auditoriums.
A highlight of this year's conference is the featuring of world renowned preachers and musicians, including Bishop T.D Jakes, Dr Morris Cerullo, Grammy award winner, Kirk Franklin, as well as Donnie Mcclurkin