Join Chioma Jesus, Frank Edwards, many more at The African Praise Experience 2017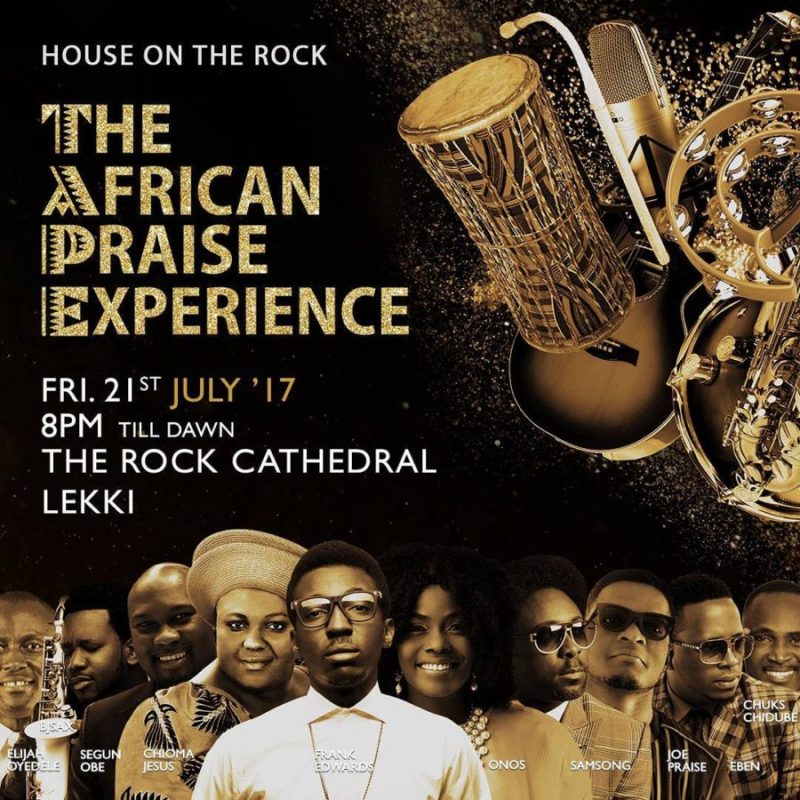 The African praise Experience (TAPE) from House on the Rock is here! And this years edition is geared up to make this the best one yet.
This years event has a line-up of over 16 acts- a combination of both music and comedy and it promises to be fast-paced, exciting and thorougly enjoyable.
Slated for Friday, 21st July, 2017 from 9pm till dawn at The Rock Cathedral, Lekki, this event has been guaranteed to be a soul-lifting and edifying experience.
The all-night event will feature some of Africa's most prolific and sensational gospel musical artistes like; Midnight Crew, Segun Obe, Samsong, Beejay Sax and Frank Edwards. Onos Ariyo, Chioma Jesus, Elijah Oyelade, Joe Praize, Evang Chuks Chidube, Eben, Super Chee as well as Lagos Metropolitan Gospel Choir (LMGC) will also be ministering.
Get set for a night of intense comedy, worship and praise! I'm so braced up. Hope you are too? SEE YOU THERE!
Free Transportation available across Lagos, Nigeria.
FESTAC – Mile 2 Bus-stop
CMS – CMS BRT BUS STOP BY THE FERRY JETTY
APAPA – Wilma Bus-stop (Mobil Filling station)
AJEGUNLE – Total Filling Station Boundary
KETU OJOTA – MRS Filling Station beside Ogudu Road Ojota
SURULERE – National Stadium
SANGOTEDO – Infront of Wadbash Hotel
AJAH – Infront of GTBank Beside Oando Petrol Station
ONIKAN – MUSON Centre Mall
UNILAG – Moremi Car Park
MEDILAG – Luth block 4 car park
YABA – TECH Akata Frontage, Beside SMBS
Who's Coming ?!
[googlemaps https://www.google.com/maps/embed?pb=%211m14%211m8%211m3%211d15858.688574104057%212d3.4935520000000007%213d6.436139%213m2%211i1024%212i768%214f13.1%213m3%211m2%211s0x0%3A0xff74f3497b20d13f%212sHouse+On+The+Rock%215e0%213m2%211sen%212sus%214v1499545338953&w=400&h=300]For more information, please Click Here