Zinoleesky – A1 (Feeling Disorder) | | Music Download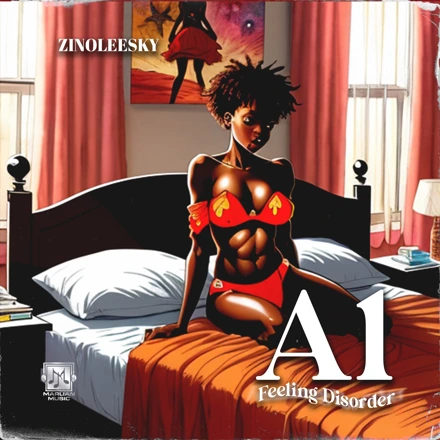 Nigerian singer and songwriter, Zinoleesky, has once again delighted his fans with the release of a captivating new track titled "A1 (Feeling Disorder)."
The talented artist, who is signed to Marlian Music, has been making waves in the Nigerian music industry with his unique style and melodic tunes.
Following the success of his previous hit track, "Many Things," Zinoleesky continues to showcase his musical prowess with this latest release. Produced by the skilled Nigerian record producer, Niphkeys, "A1 (Feeling Disorder)" is a beautifully crafted piece of music that is bound to captivate listeners.
The song exhibits Zinoleesky's ability to blend infectious melodies with meaningful lyrics, creating a musical composition that is both enjoyable and thought-provoking.
With Niphkeys' expert production skills, the track boasts a seamless fusion of captivating beats and harmonious vocals.
"A1 (Feeling Disorder)" is a must-have addition to any music lover's collection.
Its enchanting melodies and catchy hooks make it a perfect choice for those who appreciate good music.
A1 (Feeling Disorder) Lyrics
She like, "Tell me what you see when you look at me"
(Niphkeys)
She like, "Tell me what you see when you look at me"
Pussy wet like tsunami I go like meet your daddy 'Cause na you dey boost my adrenaline Buy many things like instantly Even if you want Bugatti Take am to my court and sue that thing, ehn See me o buga ti
Ah, on top (top)
She like to dey on top Screaming my name, she wan tear my cloth She's not my girl but it's just my turn On God Today na Sunday na my house be her church She say she love it anywhere me I touch She bring the pussy, tell me say make I judge A1, ahn
Say she love me but she just wan fuck
Baby, please tell me what you on for? Shey you get feeling disorder? Abi we're just feeling each other Say she love me but she just wan fuck Baby, please tell me what you on for? Shey you get feeling disorder o? Abi we're just feeling each other o
I'm emotionally downcast
Say for here I go touchdown fast I go pray and fast Baby, tell me why did you do me like that? Any other guy I fit to attack Baby, say na you I'm telling this or that Say na you nobody else watch my back E no suppose be like that Even though you no support me like that You like them toxic and bad Even when I leave, I'm back
Ah, on top (top)
She like to dey on top Screaming my name, she wan tear my cloth She's not my girl but it's just my turn On God Today na Sunday na my house be her church She say she love it anywhere me I touch She bring the pussy, tell me say make I judge A1, ahn
Say she love me but she just wan fuck
Baby, please tell me what you on for? Shey you get feeling disorder? Abi we're just feeling each other Say she love me but she just wan fuck Baby, please tell me what you on for? Shey you get feeling disorder o? Abi we're just feeling each other o