Whistle-blower reports N1.2bn fraud in Niger SDG office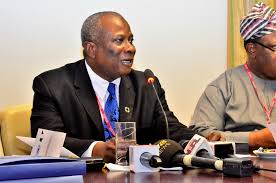 THE Governor of Niger State, Abubakar Bello, has ordered full-scale investigation into an alleged fraud of N1.2bn in the state's Sustainable Development Goals office.
Bello's directive followed a petition by a whistle-blower who claimed that top officials of the organisation were involved in financial and contract scam.
The SDG officials were accused of misappropriating well over N1.2bn meant for different projects across the state.
It was learnt that the officials had claimed in their project reports that a number of ambulances and generators were purchased for some hospitals across the state which, according to the whistle-blower, turned out to be untrue.
The officials were also accused of awarding multi-million naira contracts which they allegedly cornered after collecting the contract papers from the contractors on the excuse that the contractors might not meet the specifications.
The suspects were said to have bribed the contractors with 30 per cent of the total contract sum.
According to the petition, the SDG officials also claimed to have rented a two-bedroomed apartment for N1.5m to be used as  'Corpers' Lodge' as against N150,000 that was paid as rent.
Disturbed by this development, the governor directed the Commissioner of Police in the state to carry out a full-scale investigation into the matter, promising to bring the perpetrators to book in line with his administration's anti-corruption stand.
It was learnt that Bello had suspended some of the officials named in the scandal to prevent them from interfering with police investigation.
Northern City News, however, gathered that one of the officials involved in the alleged scam is still occupying his duty post on account of his alleged closeness to the state chief executive.
He and the governor were said to hail from the same senatorial district.
It was leant that police had made some arrests in connection with the incident, some of whom were reportedly released on bail.
The Police Public Relations Officer, Bala Elkana, on Thursday confirmed the receipt of the petition.
Elkana said, "We received a complaint from the governor and the commissioner has launched an in-depth investigation into the matter; reports of our findings will be submitted to the state government for necessary action."