TY Bello Inspired After Meeting UN Deputy SG, Amina Mohammed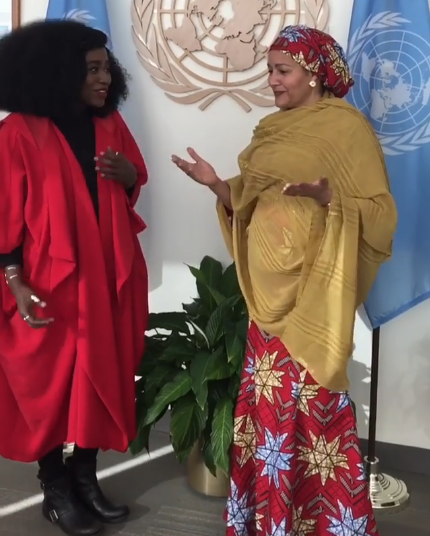 We all have had that one meeting with someone remarkable that inspired us to be better, greater and more successful- I have that meeting with myself every morning when I look into the mirror.
Photographer and singer TY Bello had one of such moment when she met United Nations Deputy Secretary General Amina Mohammed. She shared on her Instagram a video of herself discussing with Amina Mohammed.
TY Bello, in the caption, wrote about leaving the meeting stirred up, and speaking about women's rights and gender based violence. She wrote:
I just had a truly inspiring meeting at the @unitednations with the Deputy Secretary -General Amina Mohammed .We spoke about their current projects addressing women's rights and gender based violence . We also talked about Nigeria and the importance of owning this moment we are in. ..incredible woman.. she showed me the map of the world and I imagined what it would feel like carry 7.6 billion people ..She showed me how more important than having a clear career path. ..is the habit of taking EVERY task given you and doing it with EVERYTHING. .. I left the meeting so stirred up .. and I took this with me : that most valuable resource we have is TIME .. we must be committed .. now more than ever to using it wisely .. intentionally .
I remembered the map she showed me .. Africa was right in the middle of it ..there is so much good to be done with our names written all over it .. God help us all …
This beautiful conversation started with my dear friend @tonyepatrickcole and I love where it's all going .Thank you @hadizae for being an amazing host . Look forward to seeing you soon . #newyork#newhorizons#africa#unitednations
What is truly remarkable is being in Amina Mohammed's shoes. I'm talking about being someone who inspires people. We must strive to be an inspiration to people we meet.
Let people share stories of how inspiring their meeting with you is.
Of course, you know the first step is to work on yourself and make yourself an inspirational figure.
Here's TY Bello's post, a blueprint of what people should say after meeting you.