Soni Irabor and Others show support to Sadiq Daba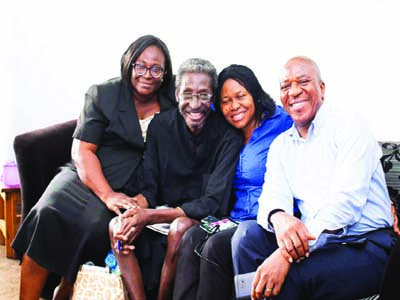 Sadiq Daba who has been diagnosed of leukemia and prostate cancer is about to be flown to the UK for further treatment.
For a while now, friends and colleagues of Sadiq have been raising funds for him to further his treatment. Recently, however, he complained of a shortage of funds, and colleagues and friends rallied around to raise money for him.
Veteran broadcaster, Soni Irabor, on his Instagram, has announced that enough has been gathered for the actor to be flown outside the country.
Soni Irabor shared a video of him, actor Patrick Doyle, Kenny Martins, Joe Okei-Odumakin, and others with Sadiq Daba thanking Nigerians for their support.
The fact that Sadiq Daba has people who are ready to rally round him in his time of need is a good indication of the type of life he has lived. Obviously, he must have helped a lot of people and touched lives.
If he led a selfish life, there would be no one to turn to in his time of need.
As corny as it might sound, Do good. Be kind to people. No one knows tomorrow.
While the actor has gotten enough for him to begin treatment again, more is still needed for him to continue.
Soni Irabor wrote as the caption of the video he shared:
#SaveSadiqDaba Update: So we all came together; Chief Kenny Martins, Dr. Joe Okei-Odumakin, Soni Irabor, Patrick Doyle, Adesina Tiamiyu, Sulaiman Aledeh and others. It's time to say thanks to you all. Sadiq Daba is set to move out for the UK where he will be starting treatment. While we say thanks we say please let's not be stuck mid way with this. We still need more from you. The account is still up and we look forward to receiving from you. God bless you
See the post below: