Okorocha: 'I Don't Run Family Government '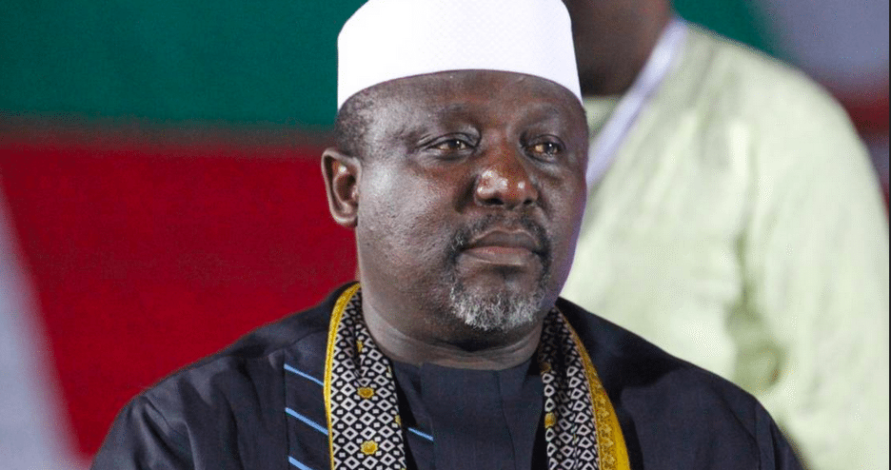 Imo State governor, Rochas Okorocha, has said that he does not run family government as alleged by some elites in the state.
He said that those behind the allegation  have missed the point.
According to him,  "more than 4,000 children had gone to University through Rochas Foundation and more than 15,000 of such children are also in the various colleges of the Foundation".
He continued that, "when some of them graduate, they chose to be with me and I cannot afford to say no to them and if any of such children becomes anything under me they would say he or she is a member of Rochas Family"
He however said that he does not deny that since his ambition in life is to see people grow through him.
Governor Okorocha spoke when more than five thousand members of the ROCHAS MANDATE MOVEMENT held solidarity rally in his honour  him in Owerri.
Okorocha stated further  that "those who never offered the people of the state leadership when they held sway but only shared the people's resources would never come back to power in the state".
He said stressed that "Uche Nwosu  (his son in-law) who is from Nkwerre Local Government Area and Prince Eze Madumere, from Mbaitoli LGA are all counted today  members of my family because they have grown to prominence", adding that "but when they took those steps of faith no one counted them as members of my family".
The governor noted  that he has done the state and her people proud with his monumental achievements.
The Imo governor also reiterated that he would neither run for Senate nor for the President in 2019, but would be keen in who succeeds him and who can sustain the tempo of the achievements recorded by his administration.
His words, "The people I see here are people who are committed. People that are following me not because of what they could gain from me, but because of what we have done for the world. As it stands, come 2019, I'm contesting for nothing. But in my heart, I have searched out and resolved that one man has good thoughts about Nigeria in his heart. Secondly, the possibility of leadership will easily get to the Igbos after him. That man is President Muhammadu Buhari".
He added "My coming as a leader in Imo State was by your efforts. No big political bigwig supported me and in my stride, I have brought sitting Heads of states of other countries to Imo State".
In her speech, the Coordinator of the group and Supervisory Commissioner for the Ministry of Happiness and Purpose Fulfillment Mrs. Ogechi Ololo, said the Movement will be poised to insure that someone with the passion to develop the state like the governor will govern the state in 2019, adding that Imo People will not afford to cock and bull stories with Free Education, Urban Renewal and so on.