North Central Farmers Selected For Dry-Season Rice Farming – AFAN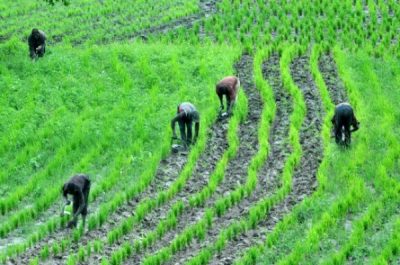 No fewer than 6,520 farmers from five north-central states and Abuja have been selected to participate in this year's dry season farming under the Anchor Borrowers' Programme.
Mrs Rabi Emaikwu, Chairman, All Farmers Association of Nigeria (AFAN) in Kogi, disclosed this on Friday in Lokoja at the meeting of the Core Delivery Team (CDT) of the State Partnership for Agriculture (SPA), organised by Synergos Nigeria.
She said that the beneficiary farmers were drawn from Kogi, Kwara, Niger, Plateau and the Federal Capital Territory (FCT).
The meeting was convened to discuss and outline the priority areas of activities/interventions in 2018, while evaluating emerging developments in the agricultural sector and strengthening existing collaborations in the state.
Emaikwu, who doubles as the Special Adviser to Gov. Yahaya Bello of Kogi on Farmers Affairs and Agricultural Development, said the model farming method, which was experimental, would involve 6,520 existing rice farmers.
"We are using existing farm locations that do not require fresh clearing of land. The mapping is already going on in Kogi State and hopefully, by the end of this year to January 2018, the programme will take off," she said.
Also speaking, Mr Dennis Okwoli, Director, Agricultural Services in the state Ministry of Agriculture, said that the state intended to improve on the production of cassava, rice and cashew in the 2018 planting season.
He said that about 4,200 hectares of land, consisting of 200 hectares in each of the 21 Local Government areas of the state, had been earmarked for the production of cassava and enhancement of its value chain.
Besides, Okwoli said that Alloma Oil Palm plantation was scheduled for rehabilitation and expansion to cover 1,000 hectares, while the rehabilitation and expansion of cocoa fields were also being planned in nine local government areas.
Dr Uhuotu Akomodi, the Director of Livestock in the ministry, said that 1,000 earth ponds would be established to empower youths, under a pilot project involving 2,500 fingerlings per pond one in each of the three senatorial districts of the state.
Mrs Rachael Tokula, the Director of Nutrition in the ministry, said that the ministry would embark on micro-nutrients deficiency control programme via the promotion of home garden and school farming.
He said that N10 million had been earmarked for commencement of nutrition-sensitive agriculture in the proposed 2018 budget.
Mrs Lydia Oyewale, an official of the FADAMA Programme, said that plans were underway to establish 33 crop processing centres for 20 women and 13 youths, adding that funds would also be given to the 195 FADAMA GUYS beneficiaries soon.
Mrs Folashade Olukotun, Director, Planning Monitoring and Evaluation in the state Agricultural Development Project (ADP), said that the recently inaugurated Agricultural Villages would start off with 100 hectares of cassava plantations in 2018, with purposeful extension services.