Meet Teens who made Nigeria proud at the First Global Robot Olympics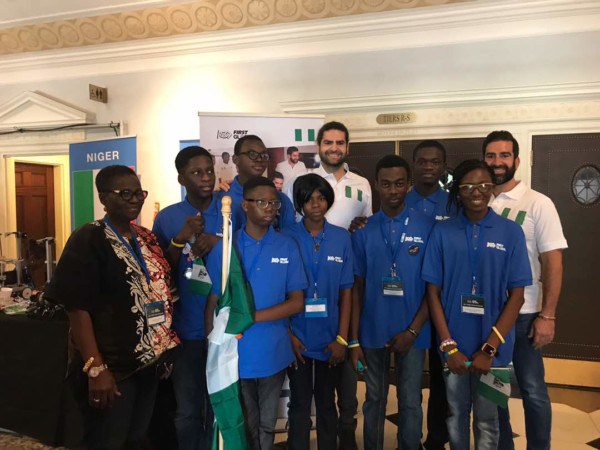 Seun Omotayo, Tawa Giwa, Fetisimi Adegbamigbe, Ayodeji Umar, Toluwalase Agoro, Ayomide Adetunji, and Niyi Talabi represented Nigeria at the First Global Robotics Challenge 2017, the first robotics olympics in the world, which held in Washington DC, U.S.
With the provision of access to clean water as the overall theme, 163 teams from the world over, including continental teams, all made up of students ranging from 15 to 18, fought to win the First Global Challenge 2017.
"We are Robo Teens from Nigeria!" Team Nigeria's bio says. "We are a team of robot enthusiasts, consisting of four boys, three girls ages 15-18, and three coaches. Our team inspiration is based on our goal to make our country great and to better understand the advantages of collaboration both within and outside of our country."
The team leader, Toluwalase Agoro, a student of Oxbridge College, told Tribune before the competition:
I have always been interested in robots. It's a new way of doing things; it's a more efficient way of solving problems. All over the world, scientists have already started using robotics to build cars and other things; if we can apply that to other sectors, in Nigeria and elsewhere, it can help to make life easier. For example, if this year we are focussing on how we can use robots to solve problems related to poor access to potable water.

It has been fun, but very challenging. We went through a lot of designs before we came up with this design. And for each design, we worked hard to develop it; there were some we dropped, before coming up with this current one. We encountered many challenges, but we were able to cope. We have done most of the work now, but we are not relaxing. We started building this in January. At this stage, we are now developing the programme which would work on the robot.
Team Nigeria was coached by Remi Willoughby, a Robotics Instructor and Educator who served as the national coordinator of the programme in Nigeria.
By the second day Team Nigeria was on the podium, winning the Sofia Kovalevskaya Gold Medal for International Journey.
Ivanka Trump was in the venue on the third day to encourage the teens.