LAUTECH doctors protest wildly over salary deduction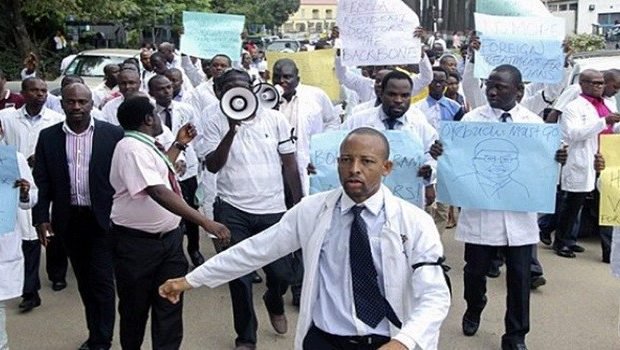 Medical doctors at the Ladoke Akintola University of Technology, Teaching Hospital, Ogbomoso (LAUTECH), have lamented the "unlawful and inconsiderate" cut of their salaries by the state government.
The medical doctors, under the auspices of Association of Resident Doctors, LAUTECH-ARD, also bemoaned the non-provision of necessary equipment, which was affecting the training of medical students in the institution.
In a statement jointly signed by the President, Dr Sebastine Oiwoh and the General Secretary, Dr Ayobami Alabi, they alleged that all efforts by the Association to resolve those problems met a brick wall.
They said the Association had vehemently rejected the payment of percentage salary, since the payment of January 2016 salary was paid in August 2016.
"We have repeatedly written letters, paid visits and made appeal to all that matter in Oyo state government. Attempts at meeting with the state Governor was met with brick wall," the statement read in part.
The Association also demanded for the immediate payment of their salaries and arrears with the Paris Club Fund released to the state.
"We are owed 11 months salary right now. We demand immediate reversal alongside payment of the arrears of salaries being owed with the Paris Fund release.
"We insist being paid what is obtainable in federal teaching hospital as it is written in the edict of the hospital as anything contrary totally negates the contract of our employment," they insisted.
The doctors who alleged that projects are not being implemented in the hospital, said approved equipment are yet to be delivered as well as not installed.
"This sad experience typifies the sheer neglect of the populace that translates into poor health indices in the nation. This ranges from insufficient budgetary allocation for health to non implementation of allocated funds for actualisation of the zenith of enviable health care delivery within the hospital and the state," the statement added.