Justin Bieber and Selena Gomez in couples therapy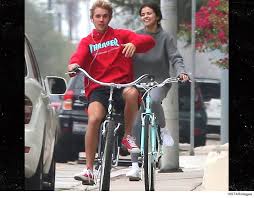 Justin Bieber and Selena Gomez are reportedly working things out in couples therapy because of a fight they had over Justin's ex Hailey Baldwin.
Sources connected to Hillsong Church said that Justin is trying to turn a new leaf and make amends. As part of his 'amendment' process, Justin reached out to Hailey to clear the air over their brief relationship and sour breakup.
Next, as part of his new "open and honest" approach to life, Justin told Selena about his convo with Hailey…
Big mistake son, Jesus might have forgiven your sins and forgotten them, but women aren't Jesus.
Selena wasn't too thrilled about the idea of Justin still keeping in touch with his ex…and so, they have decided to try Christian couples therapy.
Sources say they've been going for about a week now, and as we've reported, it's not sitting well with Selena's mom.
Beliebers probably noticed JB's been posting more words of wisdom lately … it's a good bet he's picking 'em up in therapy or Jesus has really touched him.