Governor Amosun Launches Ogun Ofada Rice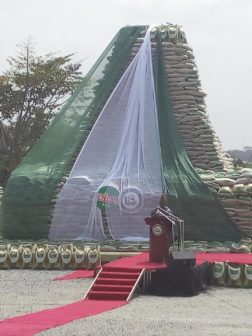 Governor Ibikunle Amosun of Ogun State on Thursday launched the Ogun Ofada rice christened Mission To Rebuild Ogun State (MITROS) Ofada rice.
Ofada rice is a local variety of uniquely processed brown rice that is produced in a town in Obafemi-Owode Local Government Area of Ogun State.
Ofada rice is a member of the Oryza Glaberrima species of rice, also known as African Rice. Ofada comes in two types, the white and brown, based on the unmilled seed colour.
In his remarks at the launching held at the Ministry of Agriculture, Asero, Governor Amosun disclosed that the rice was planted, produced and packaged in Ogun State.
Amosun also made it know that 110,000 50kg bags of the ofada rice was launched with smaller sizes like 25kg, 10kg, 5kg and the smallest pack of about N200.
"Our major problém is unemployment, it is gradually coming to an end. The unavailability of food is coming to an end in Ogun state. We are creating jobs for our unemployed youth. Our farmers will benefit from it," he stated.
The governor of Kebbi State, Abubakar Atiku Bagudu, who witnessed the launching, said he was glad that Governor Amosun was able to deliver on his promise three months ago concerning being part of the rice producing statěs.
"Nigeria has the ability to produce rice competitively. It is important for us to patronise Nigerian commodities," he said in his remarks.
The Governor of Central Bank of Nigeria, Mr Godwin Emefiele expressed the bank's support for anyone who ventures into agriculture, adding that "a country that does not take agriculture seriously will be no where to be found."