Akwa Ibom-Abia boundary clash, 21 killed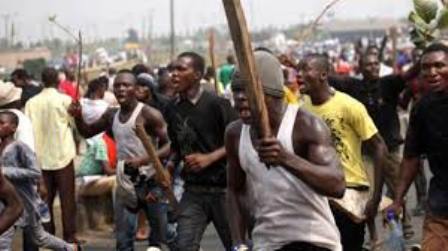 It was heartbreaking as Ikwuano LGA of Usaka Ukwu and Azuncchai communities mourned the death of 21 people killed by Akwa Ibom neighbours over a land disagreement.
According to select media yesterday, the shareholders from the area which include the local government Chairman, President Generals, traditional rulers and more, stated that Nkari people of Ini and Oboto Akara LGA in Akwa Ibom murdered 16 Usaka Ukwu and 4 Azunchai people between May 2020 and January 22, 2021.
Usaka Ukwu people said that Akwa Ibom people attacked and injured three amongst the army personnel in the area who tried to make peace. They allegedly took their ammunitions and one of the army personnel hospitalized has died.
The President General of Usaka Ukwu, Chief B.C Mgbaramuko revealed that the "greedy expansionist objective" of the Akwa Ibom people, with the support of their state government has even "surveyed our land where the Army from the Ohafia military Command established a military checkpoint."
Chief Mgbaramuko mentioned that farming cultivation has stopped because residents are afraid of the Akwa Ibom neighbours. He appealed to the National Boundary Commission to intervene for "proper delineation of the original boundaries". He also appealed to the Akwa Ibom Government to reimburse the families of those who lost their lives between May 2020 and January, 2021.
They asked that the government should set up police/military check points and Abia State Government should be committed to settle matter with its Akwa Ibom counterpart and the Federal Government through the National Boundary Commission.
The Abia State Governor, Okezie Ikpeazu declined their request concerning the expansionist agenda. He said he could only protect and safeguard the Abia State territory.
The Governor said he responded to the called made by the community about hoodlums invading their homeland from a neighbouring community in Akwa, also the disagreement concerning the lingering boundary is before the National Boundaries Commission and "until a final determination is made, the area remains in Abia State."
The Army PRO in the state, Major Kadiri refused to respond to their request. All phone calls and text messages sent to him has not been replied to.