How Africa Can Keep Rising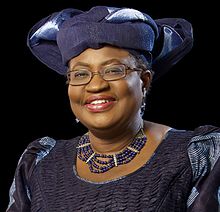 Ngozi Okonjo-Iweala (born 13 June 1954) is a Nigerian economist and its first female minister of Finance.
She served two terms as Finance Minister of Nigeria (2003-2006, 2011-2015) and was previously Managing Director of the World Bank (2007-2011). She currently chairs the Board of the Global Alliance for Vaccines and Immunization (GAVI) and the African Risk Capacity (ARC).
Education and personal life
Okonjo-Iweala is from Ogwashi-Ukwu, Delta State, where her father Professor Chukwuka Okonjo is the Eze (King) from the Obahai Royal Family of Ogwashi-Ukwu.
Okonjo-Iweala was educated at St. Anne's School, Molete, Ibadan, the International School Ibadan and Harvard University, graduating magna cum laude with an AB in Economics in 1976, and earned her PhD in regional economics and development from the Massachusetts Institute of Technology (MIT) in 1981 with a thesis title Credit policy, rural financial markets, and Nigeria's agricultural development. She received an International Fellowship from the American Association of University Women (AAUW) that supported her doctoral studies.
She is married to Dr. Ikemba Iweala, a neurosurgeon from Umuahia, Abia State, and they have four children, including Uzodinma Iweala.
Career
Okonjo-Iweala served twice as Nigeria's Finance Minister and also as Minister of Foreign Affairs. She was the first female to hold both positions. During her first term as Minister of Finance under President Obasanjo's Administration, she spearheaded negotiations with the Paris Club of Creditors that led to the wiping out of US$30 billion of Nigeria's debt, including the outright cancellation of US$18 billion. In 2003 she led efforts to improve Nigeria's macroeconomic management including the implementation of an oil-price based fiscal rule where revenues accruing above a reference benchmark oil price were saved in a special account, "The Excess Crude Account" which helped to reduce macroeconomic volatility.
She also introduced the practice of publishing each state's monthly financial allocation from the Federal Government of Nigeria in the newspapers. This action went a long way in increasing transparency in governance. With the support of the World Bank and the IMF to the Federal Government of Nigeria, she helped build an electronic financial management platform-the Government Integrated Financial Management and Information System (GIFMIS), including the Treasury Single Account (TSA) and the Integrated Payroll and Personnel Information System (IPPIS), helping to curtail corruption in the process. As at 31 December 2014, the IPPIS platform for example had eliminated 62,893 ghost workers from the system and saved the Nigerian government about $1.25 billion in the process.