Abracadabra – Rexxie, Naira Marley lyrics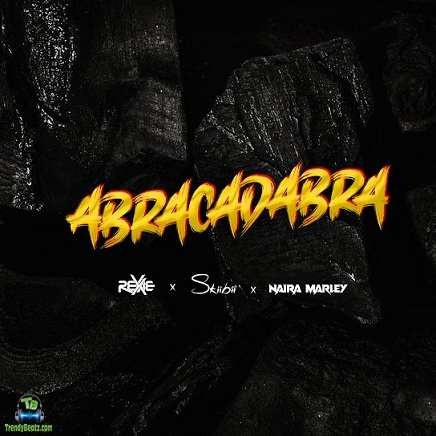 Rexxie, a skilled Nigerian music producer, collaborates with two dynamic artists from Nigeria, Skiibii and Naira Marley, to bring us the catchy and captivating song, Abracadabra. This latest creative output is sure to be a crowd-pleaser and worthy of being added to your playlist.
As you listen to Abracadabra, you'll find it to be lively and rejuvenating. Both Skiibii and Naira Marley, the Nigerian street ambassadors, displayed their vocal abilities and musical talents in this song. Meanwhile, Rexxie demonstrates his production prowess.
This song is a follow-up to Rexxie's previous release, No Pressure, in collaboration with Chocolate City music diva, Candy Bleakz. With his Afro Streets sound, which he introduced in his 2020 single "KPK (Ko Por Ke)" with Mohbad, Rexxie has carved out his own path, bypassing mainstream expectations.
The song, Abracadabra, is yet another outstanding entry that is poised to take over the music scene in the not-too-distant future. Having Skiibii and Naira Marley on this track adds an extra advantage. Don't hesitate to grab a copy of it below.
Abracadabra – Rexxie, Naira Marley lyrics
The flame
Abracadabra
Oh, so sweet like our father Think they bad but I'm badder (Big vibes)
Fine girls for my bed (Bed)
Escalator too fly like a bird (Bird) Cause oil in my head When the ladies see me them they twerk (Twerk) We know we fine like this? (We know) We know we fresh like this? (Yeah, we know) 'Cause I need job like king (Yes) Haters can suck my dick (Let's go)
Abi kin pe Rexxie, Rexxie, Rexxie
World bestie (Bestie) Blue jersey, I'm not Chelsea (Chelsea) Gunners la wa, no testing (Testing) Don't call me, don't text me (Text me, hello) Dial 'em up, no person (Person) Make person, no chassis Marley Naira, no person ()
Abracadabra
Oh, so sweet like our father Think they bad but I'm badder Your father ()
Abracadabra
Oh, so sweet like our father They think they bad but I'm badder Your father
I 'wanna
Disco
They 'wanna
Disco
They 'wanna
Disco
They 'wanna
Disco
They 'wanna
Disco
They 'wanna
Disco
They 'wanna
Disco
They 'wanna
Disco
Oh, baby
It's gone (It's fucked) Face show and skin glowing (Glowing) Now you know I'm balling (Balling) Anywhere you go I'm going
Walking, I'm walking, you walk right past
That's when I saw that you got fat ass Ass so fat I sat back I 'wanna give you papapa (Pa) Papapa, (Pa) papapa (Pa) Your dissing me on my life, ja (Ja) We belong together, ma ja ja We belong together, ma ja ja ()
Abracadabra
Oh, so sweet like our father They think they bad but I'm badder Your father ()
Abracadabra
Oh, so sweet like our father They think they bad but I'm badder Your father
Abi kin pe Rexxie, Rexxie, Rexxie
World bestie (Bestie) Blue jersey, I'm not Chelsea (Chelsea) Gunners la wa, no testing (Testing) Don't call me, don't text me (Text me, hello) Dial 'em up, no person (Person) Make person, no chassis Marley Naira, no person