Zinoleesky – Many Things [Lyrics + Audio]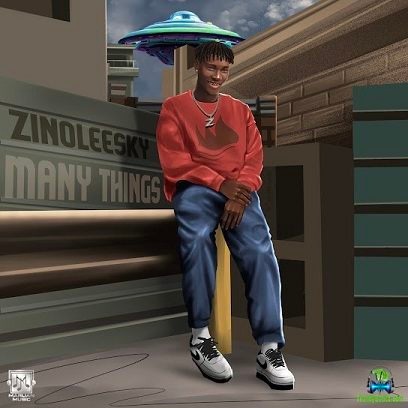 Renowned Nigerian recording artist, Zinoleesky, has made a comeback with his latest captivating tune titled "Many Things."
Released in 2023, this carefully crafted record showcases infectious lyrics and catchy instrumentation that are bound to leave listeners yearning for more.
Zinoleesky, a young and immensely talented Nigerian music maker, continues to forge a legacy for himself in the Nigerian music scene.
Waste no time in immersing yourself in his debut single for the year 2023, as he shows no signs of slowing down or halting his music career.
Having previously been featured on several hit records that continue to make waves, Zinoleesky is carving a niche for himself.
The Marlian hitman diverges from his sophomore studio extended playlist, 'Grit & Lust,' which comprises eight enthralling tracks featuring vocal contributions from award-winning superstars such as Omah Lay and Mavin music diva, Ayra Starr.
Listen below;
Many things lyrics
Mama said
You don't need no interception
You are perfect
Because of ur imperfection
Anywhere any direction
Wey u go say Never beg for no affection
Melo melo ni mo fe so
In the tension dem won put me under pressure
Won fe gbo nkan ti mo fe so
But now I got people waiting for my next song
Something just dey tell me ride on
No be say na me do pass
Baba just decide to gimme through pass
E look my life and gimme two chance
And as omo ogbon mo ride won
But still I no too gas
I no dey go to church but I no do jazz
Now u see I'm living good life
Cos many many things
Many many things I know say I small but my eyes don see Many many things Many many things Be like I cross seven mountains and seven seas
I still dey insist oga I no dey resist
Me I don hustle now d cash no contain my Jeans
But no be so e be yesterday
No be so e be yesterday
Life go teach u pass professor
On d road so no ask me where I learned from
Always moving with precaution
Mehn I swear say u no fit catch me for junction
Ever since I dropped my first song Me I know say
The next one go be d best one
Kemi gan to domo tan so mehn
Eye too see melo ni mo fe so
Something just dey tell me ride on
No be say na me do pass
Baba just decide to gimme through pass
E look my life and gimme two chance
And as omo ogbon mo ride won
But still I no too gas
I no dey go to Church but I no do jazz
Now u see I'm living good life
Cos many many things
Many many things I know say I small but my eyes don see Many many things Many many things Be like I cross seven mountains and seven seas
I still dey insist oga I no dey resist
Me I don hustle now d cash no contain my Jeans
But no be so e be yesterday
No be so e be yesterday
You don't need no interception
You are perfect
Because of ur imperfection
Anywhere any direction
Wey u go say Never beg for no affection
Melo melo ni mo fe so
In the tension dem won put me under pressure
Won fe gbo nkan ti mo fe so
But now I got people waiting for my next song