Yahoo boy mobbed after killing four in Akure accident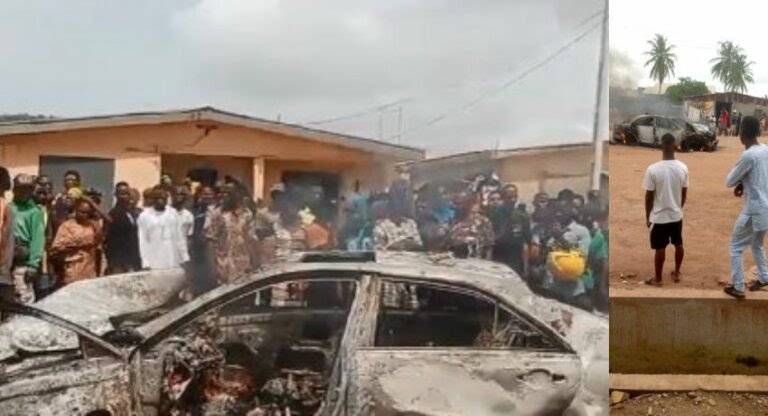 After an accident, a suspected yahoo boy, identified simply as Tope, was mobbed by residents of the Ijoka area of Akure, the Ondo state capital on Monday, April 10th.
Tope was involved in an accident where he allegedly crushed four people to death. The victims were said to be commercial motorcyclists, also known as okada riders.
An eyewitness said that Tope, who was driving a Toyota car, suddenly skidded off its lane and crushed the victims.
Following the accident, sympathizers rushed to rescue the victims and the driver.
Inside Tope's vehicle, the sympathizers found fetish items such as a calabash, snails, tortoise, ladies' underpants, amongst other things.
The discovery raised suspicion that he was a yahoo boy.
Angered by their discovery in the car, the sympathizers descended on Tope and beat him to a point of unconsciousness.
His car was also set ablaze. Fortunately, the timely intervention of the state police command prevented further harm to the driver.
The police officer who rescued Tope from the mob declined to comment on the issue.
However, one of the policemen later informed Vanguard that the driver was taken to the state police command headquarters for questioning.
The deceased were later taken to the state hospital mortuary, while those injured were treated at the same hospital.
He said:
"We had to rescue the suspect from the mob, thank God we arrived at the scene on time, they would've killed the boy.
"He has been detained at the state police headquarters in Akure. Our detectives would be questioning him."
The state police spokesperson, Funmi Odunlami, could not be reached for further comment.