Woman Killed In Her House On New Year Day ( SEE DETAILS)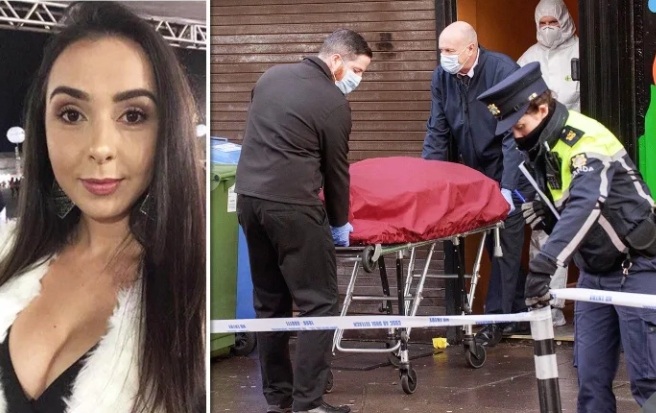 A woman identified as Bruna Fonseca has been found dead in a flat at Cork city on new year day.
The 28-Year-Old was strangled & beaten by man she knew on New Year's night.
The Brazilian woman's body was found in the apartment in Liberty Street, within metres of the Washington Street courthouse and a short distance from the city centre.
A man had given the report early this morning.
A 29-year-old suspect has been arrested and is being held at nearby Bridewell Garda Station under Section 4 of the Criminal Justice Act, 1984.
The emergency services were notified and they rushed to the scene but efforts to resuscitate the woman were unsuccessful and she was pronounced dead at the scene.
The apartment was sealed off for a full forensic and technical examination by Garda forensic experts.
Gardai were carrying out door-to-door enquiries in the area yesterday and on the street in which St Francis Church is located.
They will also be harvesting CCTV footage from the street which houses a number of business premises.
The woman's body was taken from the flat at noon and transferred to Cork University Hospital where a full post mortem examination was performed by assistant State Pathologist Dr Margaret Bolster.
Gardai say the results of the post mortem examination will determine the nature of their investigation.
They are not releasing details of the results, but according to sources the woman was beaten and strangled.
A source said that Gardai station were called to the upstairs flat which is located over a number of businesses. There was a report of a disturbance earlier on New Year's Eve but when officers arrived there was no indication anything serious was happening.
A second call was received after 6am about another disturbance and when they arrived they were met by a man, also believed to be Brazilian, who took them upstairs to the flat where they discovered the woman unconscious in bed.
Gardai arrested a man in his late 20s at the scene and took him to Bridewell Garda Station.
The university-educated woman who was employed as a librarian and worked as a cleaner in the Mercy University Hospital with a contract cleaning firm.
A large number of revellers were also in the area last night as people celebrated New Year's Eve with the general vicinity having a number of pubs, clubs and restaurants.
Gardai station have appealed to anyone who was in the area on New Years night and morning and who might have seen anything to contact them.
Gardaí also want to confirm the last known movements of the deceased and people she knew.
It is expected there will be a court appearance on Monday.