Wike's preferred candidate finally revealed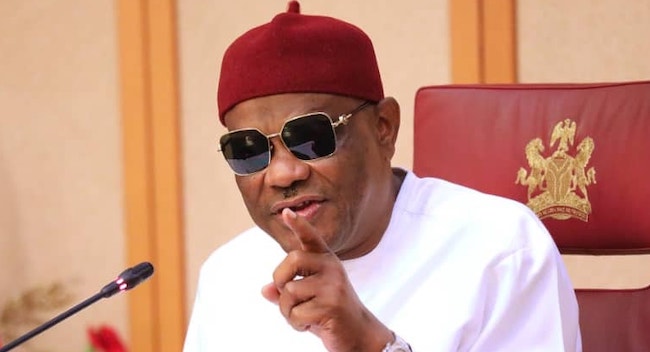 Loyalists to the Peoples Democratic Party (PDP) presidential candidate, Atiku Abubakar, have alleged that Rivers State Governor, Nyesom Wike will support the candidate of the All Progressives Congress (APC), Bola Tinubu, in the forthcoming election.
Recall that Wike in an interview with BBC Pidgin revealed that he would in January announce the presidential candidate he and the G-5 governors are supporting.
But he recently made a U-turn saying he never said such.
So many political observers thought the Rivers Governor had made peace with Atiku after approving Adoki Amasiaemeka Stadium, Igwurita Ali, Ikwerre Local Government Area, for use by the presidential candidate of the PDP.
Atiku and his campaign train are scheduled to hold a rally at the venue on February 11, 2023. But the state government, in a statement on Wednesday, announced the withdrawal of the earlier approval given to the former Vice-President.
Reacting to the Rivers State Governor's action, the Director General of the PDP PCC in the state, Dr Abiye Sekibo, said in a letter dated February 1, 2023, and addressed to the PDP Governor that he (Wike) is working for Tinubu to win the February 25, 2023 election.
Sekibo, a former Minister of Transport, alleged that wike had already directed members of his cabinet, local government chairmen, his aides and party executives at the various levels in the state to support Tinubu in the election.
The letter reads, "Our attention has been drawn to your letter with reference number MOS/C/409/S49/T/17 dated January 31, 2023, and addressed to His Excellency, Aminu Waziri Tambuwal, the Director General of the PDP Presidential Campaign Council who has minuted the said letter to us for our reaction.
"You stated that credible intelligence available to the Government of Rivers State and recent developments now shows that our presidential campaign organisation is working in collaboration and cohort with a faction of the APC in River State led by Tonye Patrick Cole and that it is the intention of our campaign organisation to accommodate and share the approved facility for our campaign with the said faction of the APC.
"We wish to state as follows in reply: We completely deny your assertion as patently false and perverse, and we believe that our highly respected security agencies cannot furnish you with such untrue and unfounded lies.
"That the PDP Presidential Campaign Council has nothing whatsoever to do with the APC in Rivers State."