What Tinubu and Antonio Guterres discussed in New York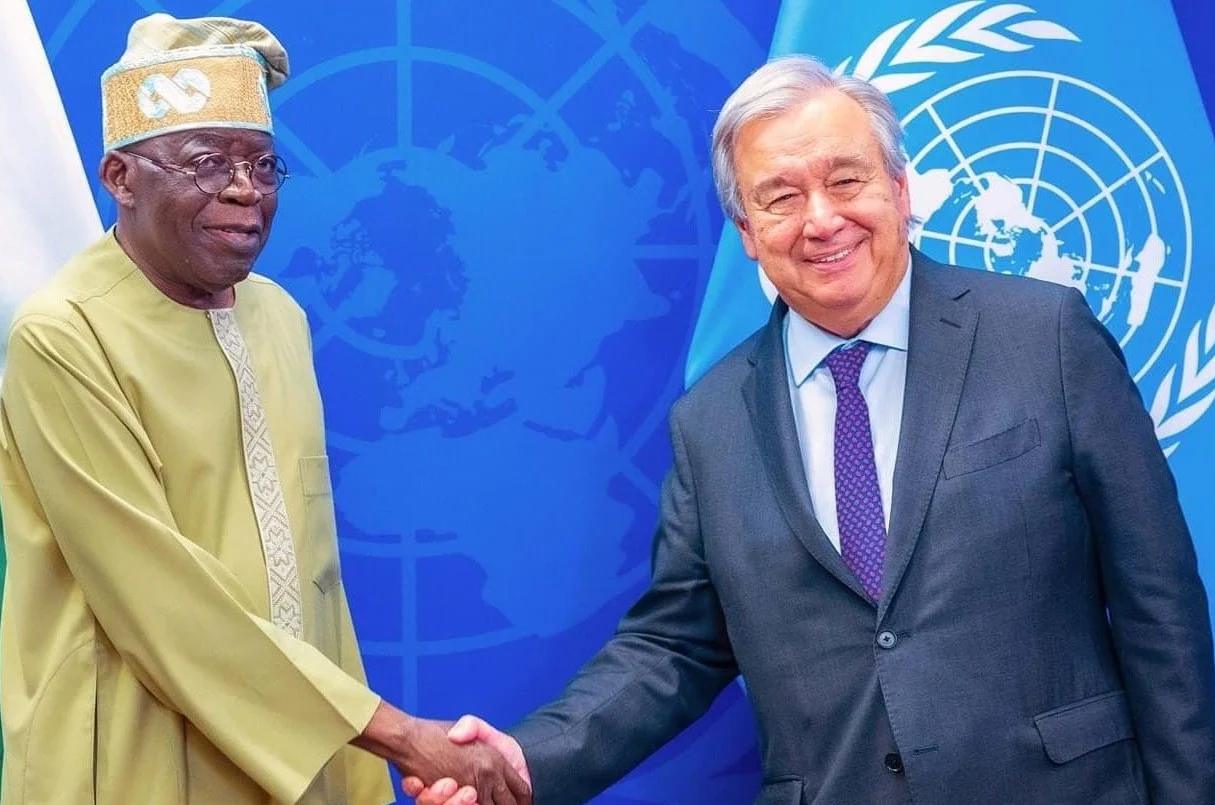 President Bola Tinubu of Nigeria has urged the United Nations (UN) to transform into a world action coordination center during a meeting with UN Secretary-General António Guterres at the UN Headquarters in New York City on Wednesday.
President Tinubu expressed concern over the fact that a significant portion of resources allocated to the world's poorest countries was being spent on administrative overheads, rather than addressing the core issues. He emphasized the need for the UN to collaborate with African nations to combat poverty and terrorism.
"The poverty ravaging our continent and the question of security and counter-terrorism requires us to work in close and effective synergy. The world will ignore Nigeria at its own peril," President Tinubu warned, highlighting the urgency of the situation.
President Tinubu pledged to tackle poverty vigorously, even if it required making unpopular decisions at home. He stressed his personal history of overcoming poverty and his determination to lead Nigeria to development through democracy.
Addressing concerns over human rights advocacy being used to exploit Africa's natural resources and smuggle weapons, President Tinubu asserted that African nations would no longer tolerate such practices.
He called for international collaboration to curb these activities.
"African nations would no longer accept a situation in which human rights advocacy was used by wealthy and powerful nations to stop developing economies from dealing decisively with malign actors who siphoned and smuggled out the continent's vast mineral resources while smuggling in western-made weapons," President Tinubu stated.
UN Secretary-General António Guterres responded by acknowledging the need for reform within the UN system to empower developing nations. He recognized the challenges faced by middle-income countries and emphasized the importance of representing the world's current realities.
"We now recognize the need to reform the institution to represent the world as it is today," Guterres stated, highlighting the ongoing efforts to address issues such as debt and access to concessional funding.
Guterres assured President Tinubu of the UN's support for the Economic Community of West African States (ECOWAS) in light of recent military coups in the West African sub-region.
"We have high expectations for your presidency after the many bold steps you have taken. Nigeria is an indispensable voice in the sub-region. Your success is Africa's success, and we wish you well," Guterres affirmed.