What Kylian Mbappe Told Teammates At Half Time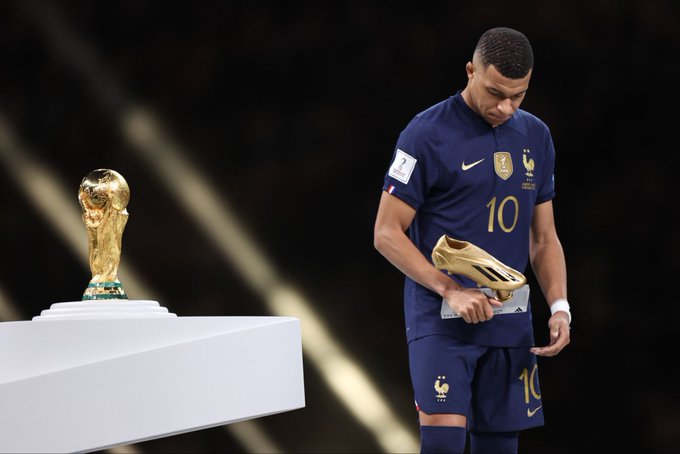 The world cup final between Argentina and France had a lot of narratives going for it, but when it came to the on-field action, 2 players were key in determining what the world has now come to recognize as the best world cup final in recent years; Kylian Mbappe and Lionel Messi for both teams.
But the final did not start as quite the tight contest as Argentina went into the kick-off with domination over the French team that Kylian Mbappe had to go in at halftime to have a word with his teammates.
It has now been made public what Kylian Mbappe and his French teammates discussed during halftime of the 2022 FIFA World Cup final.
While his side was down 2-0, the star of Paris Saint-Germain gave a stirring halftime speech to his fellow national players.
The South Americans earned a well-deserved 2-0 lead at halftime thanks to goals from Lionel Messi and Angel Di Maria.
However, the Europeans were better equipped to battle in the second half, as Mbappe's quick-fire double with 10 seconds left brought France back to parity and necessitated extra time.
Messi gave Argentina a new lead with fewer than 12 minutes remaining in the second half of extra time, but Mbappe then scored his third goal to force a shootout, which the South American nation won 4-2.
A video of the 23-year-old's speech  to his teammates ahead of going in for the second half has now been made public by Telefoot, and here is a quote from what we could gather.
"We can't do worse than what we did," Kylian Mbappe had started.
"We go back on the pitch, either we let them play or we go in, put some intensity in the duels and do something else, guys. It's a World Cup final. It's done.
"They scored two goals, we are down two goals. We can come back. Guys, this is every four years."