Trains Collide in Greece, Resulting in the Death of Dozens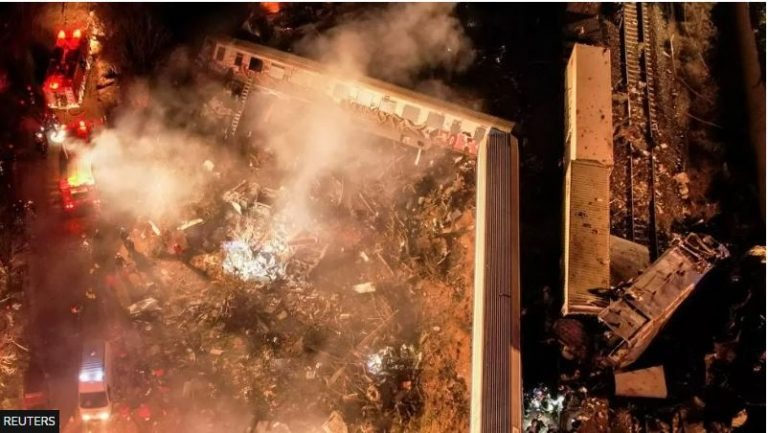 Authorities have reported that a collision between two trains near Greece, the Greek city of Larissa caused a derailment.
The collision was said to have resulted in at least 32 people killed and 85 others injured on Tuesday night.
The collision occurred just before midnight and caused multiple carriages to skip the tracks. One train was carrying 350 passengers, and the other was for freight.
Efforts to rescue those still trapped are ongoing, and 53 of the injured remain hospitalized. It is unclear why the trains collided.
Greek media calls this the worst train accident in the country's history.
Emergency services mobilized 150 firefighters, 40 ambulances, and other personnel to the scene to respond to the incident.
The majority of passengers have been rescued, but rescuers are still searching for other victims.
"I've never seen anything like this in my entire life. It's tragic. Five hours later, we are finding bodies," said an exhausted rescuer emerging from the wreckage where he and his team were working.
One train carriage was completely crushed, making the rescuers' work particularly difficult, while smoke and flames emerged from other cars.
"The majority of passengers have been taken to safety," spokesman Vathrakogiannis said.
"The operation to free trapped people is underway and is taking place in difficult conditions, due to the seriousness of the collision between the two trains."
As per a report by ERT, a state-owned TV station, one of the train compartments caught fire following the collision, and numerous individuals were trapped inside.
Yorgos Manolis, the mayor of Tempi, a nearby town, informed ERT that numerous students were aboard the train, returning to Thessaloniki after a prolonged holiday weekend.