Train Collision: Two Dead, 70 Injured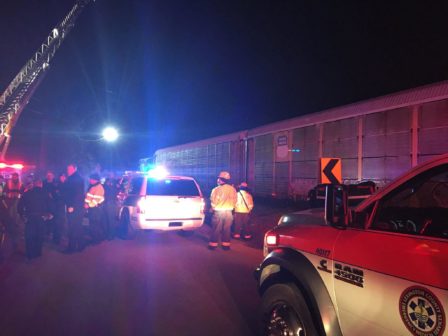 An Amtrak passenger train collided with a CSX freight train in South Carolina on Sunday, killing at least two people and injuring at least 70, the South Carolina Emergency Management Division (SCEMD) reported.
The train with 139 passengers and eight crew members aboard was traveling between New York and Miami when it collided with the freight train and derailed, Amtrak said in a statement.
"Amtrak Train 91, operating between New York and Miami, came in contact with a CSX freight train at around 2:35 a.m. in Cayce, South Carolina," Amtrak said in a statement on its website. "The lead engine was derailed, as well as some passenger cars."
The train was part of Amtrak' Silver Star Service and was headed for Miami, local media reported.
"The injuries range from cuts and bruises to severe broken bones. All the injured have been transported to local hospitals," said SCEMD public information officer Derrec Becker.
The Lexington County Sheriff's Department said on its website that a shelter for passengers was set up at a nearby middle school and that everyone was off the train and the Red Cross was assisting them.
Amtrak and the Lexington County Sheriff's officials were not available for immediate comment.