TopNaija Stories: Michael Showunmi, Mathematics Teacher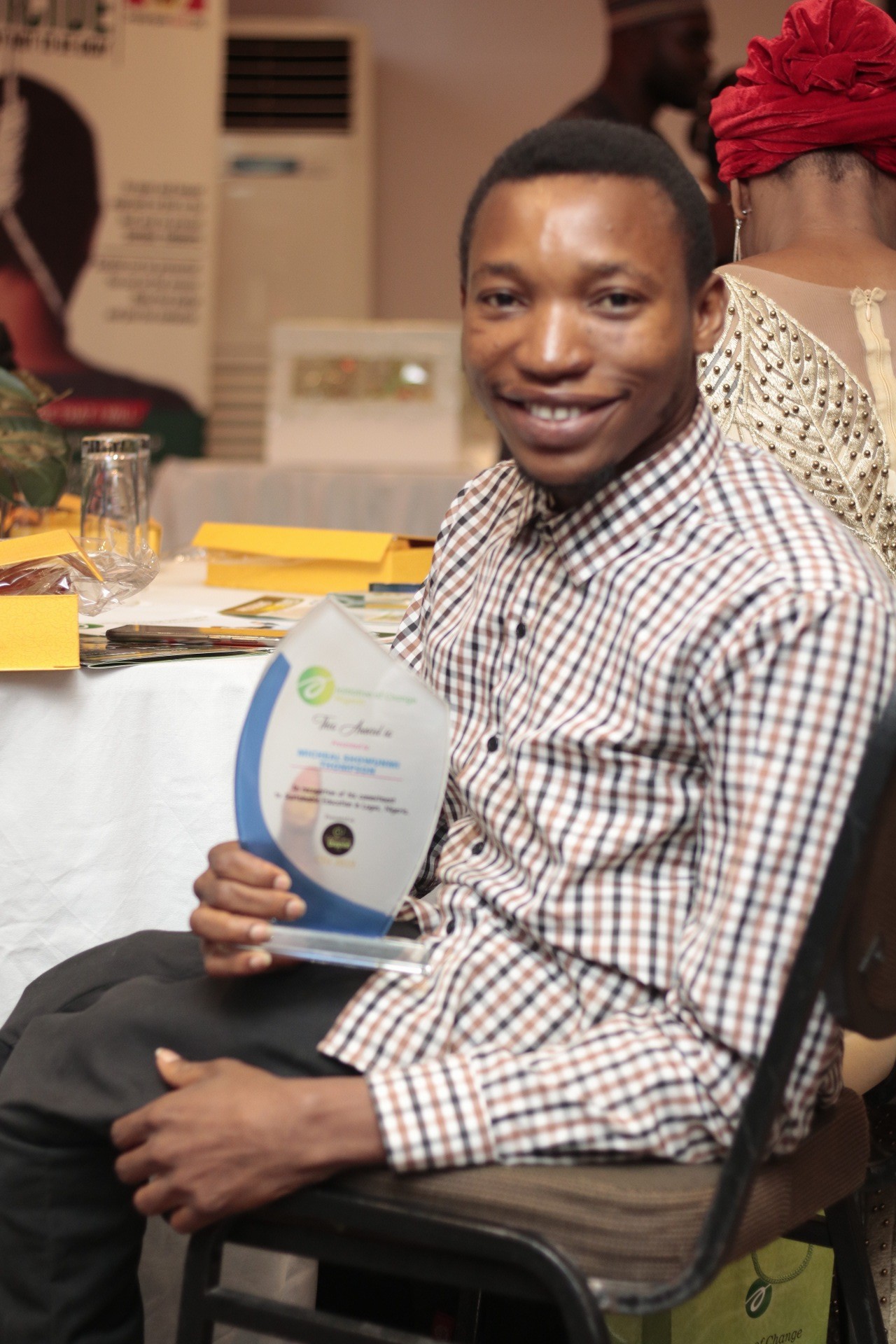 DOWNLOAD MP3 HERE
At the age of two, Michael lost his legs to acute flaccid paralysis and was able to move around by crawling with his chest. Though the life story of Michael Showunmi, the son of a pepper-grinder and a physically challenged teacher who believes his dreams are valid, evokes pity, he has learned to make lemonade from the lemons life throws at me.
Michael is a graduate of Chemical Engineering with CGPA of 4.21/5.00. from Ladoke Akintola University of Technology in Ogbomoso, Nigeria. His passion for teaching developed while he was posted to a rural school in Lagos State, Nigeria during the compulsory one-year national service. Ever since then, he has been teaching and impacting the lives of every child he came across. He has taught mathematics, further mathematics, basic science and technology, physics and chemistry. No child has ever failed in any subject he teaches. He is lively, goal-driven and getter. He was awarded a resilience teacher in the lagos state teachers conference and also awarded veteran teacher in the Obafemi Awolowo University (OAU), amidst others are the Maltina ThatOneTeacher award. His hobby is playing football, reading, and singing.
__________________________________
Current role: Graduate Trainee
Location: Lagos
Current computer: HP Laptop
Current mobile device: Samsung A50
What you want to be remembered for Inspiration and Impacting Lives
---
Tell us how you started out and how you got to where you are today?
I'm a mathematics teacher that always sacrifices his life for his students. I didn't care about money or anything, I just want to help students to know the subject and also pass the subject. The difference between where I am today is that I decided to be sharing my story. I don't care about my physical challenge; all I care about is being an inspiration to every individual.
What time do wake up, and what time do you like to be at your desk?
It depends…but within the range of 5 to 6 am on weekdays, 5 to 7 am on weekends
A brief rundown of your daily routine?
My daily routine depends on my inspiration. BUT somethings are certain like studying the bible, reading, chatting with my friends and playing.
How do you keep track of what you have to do, on a daily?
I write them down a day or week before…I pray to be more disciplined anyways
Tell us about one of the toughest situations you've found yourself in business?
When I was giving up to 5 subjects to be teaching in a school from Js1 to Ss3…I pondered resigning
What is the best business or career advice you've ever received?
As a man thinks, so is he
What conventional life or business advice do you disagree with?
When God blesses you, you should raise your standard of living. I completely disagree with it; rather you should raise your standard of giving. Remember, Generosity begets generosity.
If you had to start all over again, what would you do differently?
Sincerely nothing because all things work together for good. My mistakes in life made me realize I need God. Without those mistakes, I will still be lacking some essential maturity traits.
Tell us about your current role and key traits required to succeed in this role.
My current role is all about learning. The key trait is that you have to unlearn to learn afresh.
Tell us about a task do you dislike but still do and a problem you're still trying to solve?
Fundraising; but it is the core in helping people. It makes everyone to be involved in the work.
Who has had the greatest impact on your career, and why?
Kenechukwu Amanda
She gave me a platform where I became more visible
What business achievement are you most proud of?
Teaching a class of 46 students mathematics and none of them failed. I made history in the school since its inception.
Tell us about your greatest weakness as an individual.
I'm vulnerable but it's a good thing after all
Name two untapped lucrative business opportunities in the world, right now.
Technology and Education Technology
Aside from God, what do you consider your greatest success secret?
Giving
What are you currently reading, watching, or listening to?
I'm reading 'The parable of dollars' by Pastor Sam Adeyemi
Currently watching 'Abejoye' by Pastor Mike Bamiloye
I love listening to 'You waited' by Travis Greene
What tools, gadgets, or apps can't you do without?
My phone. The funniest thing is that I only love reading different tweets on twitter.
What's your favorite social media platform, handle, and why?
Twitter because you can use it to learn everything you want to learn. The handle I enjoy most is @Folanski
How do you unwind?
By listening to music
Who would you love to have answered these questions?
Kenechukwu Amanda
👉Get ahead with Free Primary & Secondary Education Online👈
PASS WAEC, JAMB-UTME, NECO, BECE IN 1 SITTING. GUARANTEED FREE👌