TopNaija Stories: Kashope Faje, Founder/CEO, Kashope Photography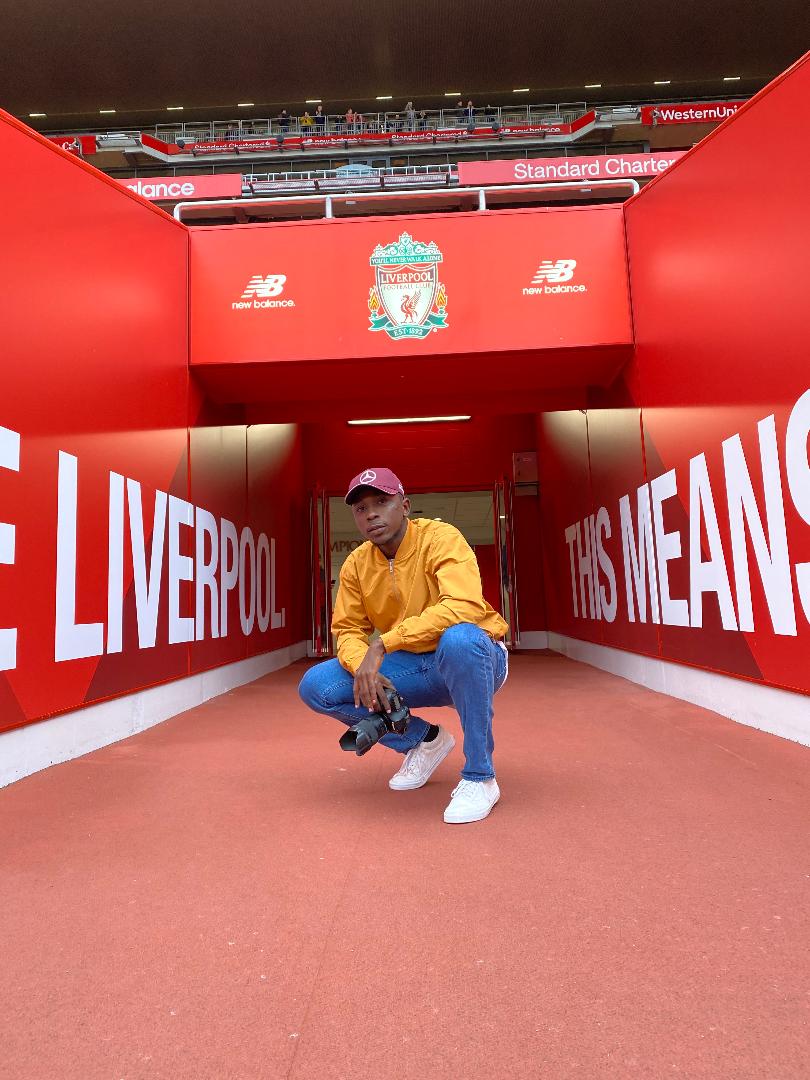 DOWNLOAD MP3 HERE
As you may have guessed, my passion is photography. I take all sorts of photos. Including lifestyle, events, Portrait's, etc, because I feel that beauty can be found in everything and if beauty can be found in everything, it is my duty to capture it. I preserve memories of the happiest moments through The Kash Weddings.

I started my business in 2017.  It all began when I started developing an interest in analyzing the pictures I saw online.  I would look at a picture and identify the flaws and see how I could make it better. This made me find people in my immediate environment that were into photography and I began to hang out with them and study them and what they did and that was how I eventually started mine. I also used to go on YouTube to watch tutorials on photography and content creation; it really helped me a lot.

Later on, I found out that pictures tell stories and a good photographer should be able to relate that story with life and also coupled with the fact that I have an eye for detail, patience, flexibility, and imagination. I realized photography is a thing for me to embrace. Photography for all intents and purposes is a form of art.

Tell us how you started out and how you got to where you are today?

Well, I am a hobbyist, so not too sure if you are looking from photography as a profession from earning perspective or in general.

I was fascinated with nature – landscapes and night sky, so photography was my obvious way to capture these moments. However, it was not before my Fifth Year in the University, that I purchased my first camera. I purchased my first camera that had a film role. I spent almost all my pocket money on it. I took some pics on and off for first few months as I progressed in the Self-educating process.

Later on, I started meeting various people that are in the same passion as me, to put me through. We collectively formed a small group of photographers

And we educated each other in the business aspect and model searching

As I progressed, I learnt that when handling a business you should learn to upgrade your Tools so as to meet up to the "Standard" and I started saving to get a better Camera from the previous Nikon d90 so I got the Canon 5D mark IV as I progressed.

Currently I'm using the Canon 6D which is a pretty awesome camera.

My advise to all photographers out there would be "Don't stop, Never Stop. magic happens When you don't give up. Even though you want to…The Universe Falls In love with a stubborn heart"

What time do wake up, and what time do you like to be at your desk?

 I get up at 6 in the morning and start some light exercises before go into the bathroom and take a shower.

I usually wake up before the alarm goes off.

After which I check my mailbox for Appointments & Bookings, I listen to les brown Just because it keeps me positive through out the day.

I used to go to bed past midnight and wake up because the alarm went off, play the snooze game and felt I was behind the whole day.

Now I go to bed around 10 o'clock in the evening and enjoy the early morning when the house is quiet. It feels like I have the world to myself.

A brief rundown of your daily routine?

My job isn't one that has a timing or planning as Other jobs regularly are, First thing I do is to check my mail box and messages and see if I have any appointments or Photoshoot coming up. I inform my team of photographers & we link up I there's let's say a "wedding". We rendezvous at a place and we discuss the roles each of us has. As the leading photographer I Give a pep talk then we get to shooting.

If a day happens to be free for me. I just stay indoors as I'm more of an indoor person and read magazines, Watch YouTube Videos and also Educate myself on what I lack in other to perfect my craft.

How do you keep track of what you have to do, on a daily?

 I have a Personal Assistant who Takes notes of my day to day activities So I don't miss any

Tell us about one of the toughest situations you've found yourself in business?

Depends on whether you want to make a living at it or do it only for the love making images. If you want to make a living at it then learning the business skills to get enough well paying clients is the hardest part for most photographers. Learning how to see is the second hardest part for most photographers.

Contrary to popular belief, if you build it THEY will not come. This is true for the vast majority of working photographers. If you want to do photography as a hobby then learning to see is what is the most difficult part but you can learn to see; first by just doing photography again and again and again. Secondly you learn to see by seeing other photographers great work and thirdly, once you become adept at the equipment and Photoshop then you can learn to imaging photographs before you push the button. It all comes with experience and desire and it will come if you apply yourself.

In business I would say… The Client search is always the hardest. When I first started getting jobs was one hell of a task but as I progressed through my journey I found out this famous quote by David frost "Don't aim for success if you want it; just do what you love and believe in, and it will come naturally."

As of now I can proudly say being "Overbooked" is an understatement

I thank God every day, for this Gift.

What is the best business or career advice you've ever received?

Don't Let Others Manage Your Career.

One of my mentors always said don't let others manage your career because you will be unhappy with the results. What he meant by management is focusing on what skills and experiences you need to ultimately be in your dream job. I managed my moves carefully, making sure that I built the right skills to be a CEO. In the end, he was right and I am happy with the outcome.

 What conventional life or business advice do you disagree with?

I don't agree with settling and managing situations.

If you had to start all over again, what would you do differently?

Absolutely Nothing… "Live the Life you Love, Love the Life you live

Tell us about your current role and key traits required to succeed on this role.

well as a photographer generally Being a good photographer is more than just mastering your camera or owning the latest and most expensive camera gear—it's about the inherent qualities that allow you to see beauty in the most unexpected places and capture that beauty in a photograph.

Here are some important skills that 've helped me through out my journey

A. Creativity and Imagination

B. An Eye for Detail

C. Patience and Flexibility

D. Good People Skills

E. Passion

Tell us about a task do you dislike but still do and a problem you're still trying to solve?

Who has had the greatest impact on your career, and why?

Everyone has played an important role especially Twitter for helping my work get recognized

What business achievement are you most proud of?

That would be Me working for the UBA Group. Was a defining moment in my career in the sense that I had the opportunity to see lots of Important Black Personalities in Our Societies. Not only did I have the opportunity to shoot Mr Tony Elumelu, and Various top personalities like the president of Rwanda & President of The Dr Congo. I also got the opportunity to Dine with them!!

How awesome is that huh?

I'll also want to use this medium to give a special shout out to Mrs Omogiafo the president & GCEO of Transcorp Nigeria for making it possible?

Tell us about your greatest weakness as an individual.

I'll say me been open to everyone I encounter  is my greatness weakness, in our society today not everyone is genuinely happy for you as we all know it

Name two untapped lucrative business opportunities in the world, right now.

 I'll say Photography in Nigeria is really slept on coupled  with Cinematography & Drone Piloting

Secondly Real Estate Management is also A great business/ Career Option

Aside God, what do you consider your greatest success secret?

My Mom without a Doubt, she's been my inspiration/Best friend  & Advisor all in one ❤

 What are you currently reading, watching, or listening to?

 I listen to more of Les brown for motivation, reading meditations by Marcus Aurelius. For music I listen to drake and Travis Scott mainly

I'm currently reading a book  by James Joyce titled "Ulysses" it's a very good read I advice everyone reading / Watching this to hop on that.

What tools, gadgets, or apps can't you do without?

I can't do without my camera and lenses lol. For apps mainly Lightroom , photoshop and twitter

What's your favourite social media platform, handle, and why?

That would be Twitter 100%

The Fans there gave me my exposure I have today

& I can't thank them enough . They are family

How do you Unwind

When i feel tired after days or weeks of work, i like to unwind by hanging out with friends and family, remembering olden days of fun, giving birth to new philosophies over life, simply sitting by the beach  and enjoying the silence of the wind.

When I feel tired and frustrated after months of work, i like to unwind by travelling, to places i have never visited, alone, exploring every thing about that place from their new culture to their staple diet. Talking to unknown people is an immense pleasure and a beautiful experience (consider safety first). When i feel tired after years of work, i like to unwind by changing my place and my way of work.

Who would you love to have answer these questions?

Answer : My personal Assistant & My Good friend Damian he's been of great help & he knows a lot about me so that would definitely be him.



👉Get ahead with Free Primary & Secondary Education Online👈
PASS WAEC, JAMB-UTME, NECO, BECE IN 1 SITTING. GUARANTEED FREE👌