TopNaija Stories: Damilola Olusegun, Visual Artist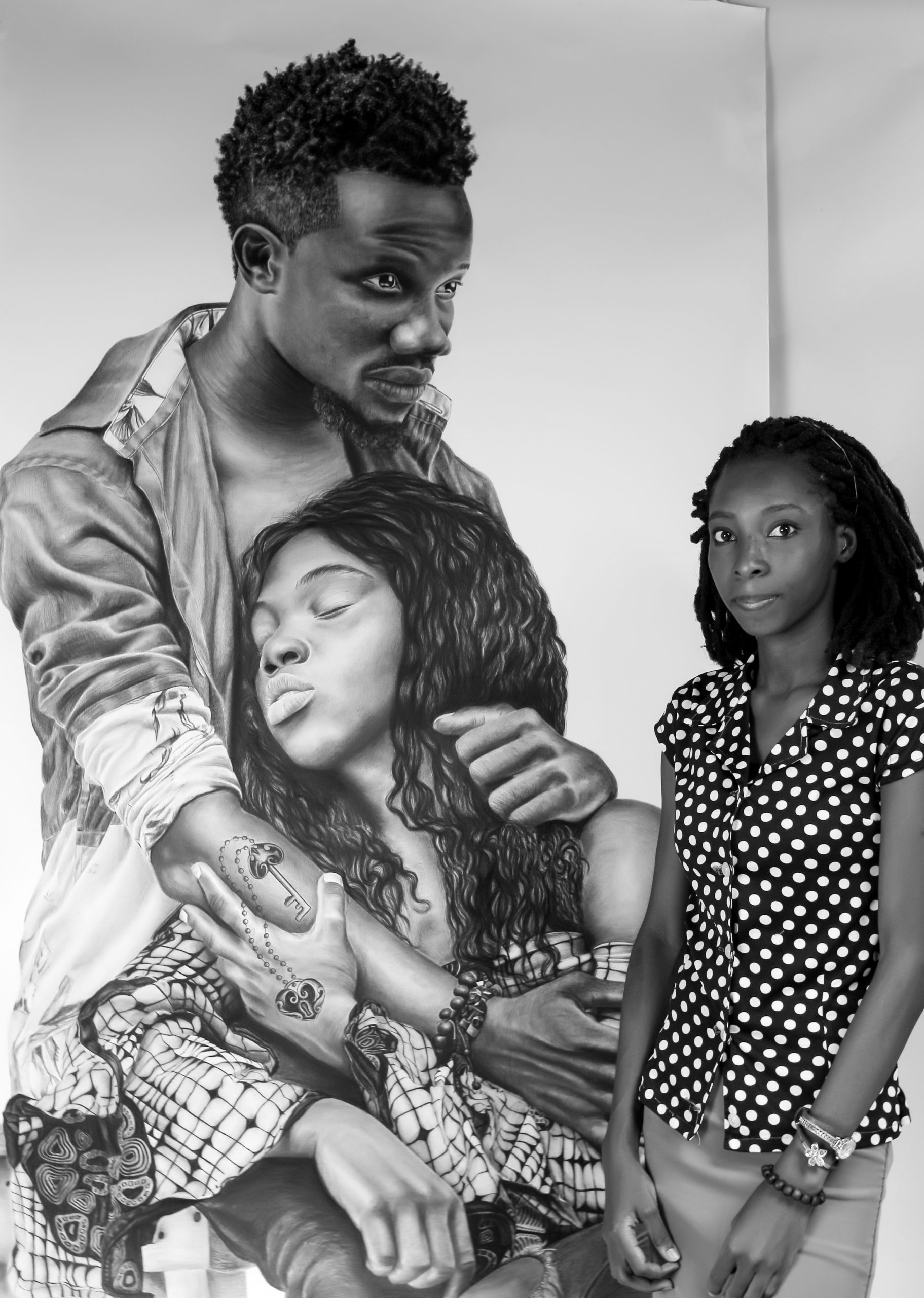 Based in Sagamu, Ogun state, Damilola Olusegun is a visual artist who creates visual arts with charcoal and graphite and has a great connection with her art pieces.
---
Current role: Visual artist
Location: Ogun State, Nigeria
Current computer: None
Current mobile device: Tecno Camon x
What you want to be remembered for: Making a difference with my skill
---
Tell us how you started out and how you got to where you are today?
I've always been fascinated by art right from my tender age, let me say it runs in the family. My dad used to deal with printing pictures in enlargement and my younger brother loves creating animation; I only had the love for it so I didn't take it seriously then. My love for art grew tremendously when my dad discovered it in me (around 2015/2016) and further pushed me to develop the skill which I took up professionally in 2017 after I lost him in late 2016.
What time do wake up, and what time do you like to be at your desk?
It depends on the time I sleep, but I wake up as early as 6:30 am or 7 am and I commence my work by 9 am.
A brief rundown of your daily routine?
When I wake up around 6:30 am, I pray, then do the necessary house chores, after which I take my bath, have my breakfast, commence work by 9 am, then I take a short break around 1 pm, I check through my social media accounts and resume back to work by 2 pm, I work all through the day and round up around 6 pm.
How do you keep track of what you have to do, on a daily?
I don't really do, I just make sure I do every necessary thing before me.
Tell us about one of the toughest situations you've found yourself in business?
It was tough for me when I started, despite the support from my family, I had challenges with getting the right tools and mentoring from professionals in this field. I almost gave up because I wasn't getting it right at first, I felt frustrated thinking I was never going to move from the stage I was. As a female and the first child of the family, I thought I was wasting my time, but thanks to my dad and family who kept believing in me.
What is the best business or career advice you've ever received?
One of my mentors once told me that… Your talent will always win as long as you are persistent.
If you had to start all over again, what would you do differently?
I would have taken my talent seriously since when I started developing the tiniest love for it.
Tell us about your current role and key traits required to succeed in this role.
Practice a lot, be persistent, research a lot, read wide, put teachings into practice, and don't be scared to share your works.
Who has had the greatest impact on your career, and why?
My dad, always supportive
What business achievement are you most proud of?
My art business of course (smile)
Tell us about your greatest weakness as an individual.
My greatest weakness is stress, sometimes I overwork and this gets me stressed out and very tired, I end up with back pain mostly at the end of the day.
Name two untapped lucrative business opportunities in the world, right now.
I can't really pick right now. There are different businesses with a different perspective, we can't focus on a certain one, though it depends on us and how much energy we apply to our different businesses.
Aside from God, what do you consider your greatest success secret?
Hard work and consistency
What are you currently reading, watching, or listening to?
I'm currently watching The Flash and listening to Billie Eilish album and Lorde's album
What tools, gadgets, or apps can't you do without?
My phone, earpiece, Bluetooth speaker, social media applications.
What's your favorite social media platform, handle, and why?
For now, it's Instagram, it reaches a lot of people.
How do you unwind?
I watch movies or play games
Who would you love to have answered these questions?
My dad
Watch the video below!!!
💃Pass WAEC, JAMB, POST-UTME & more in One Sitting for FREE!💯
How to JAPA to the UK easily [Free Application Templates]