TopNaija Stories: 17 questions for Bovi Ugboma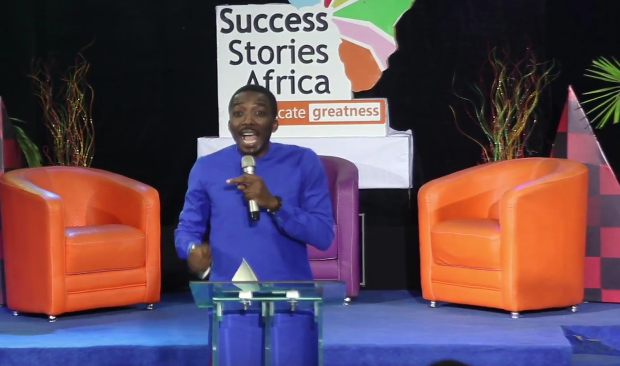 Define Bovi
Bovi is a shy fellow who likes to entertain. I like to make people happy. I like to talk a lot and I love to share. I'm a shade of everything you can think of, everything positive you can find in a human being, but I'm not calling myself a saint o.
Entry into comedy
I started working with RMD as his personal assistant after graduation in 2004. Working with him was supposed to throw me into the action in Nollywood, but he had other ideas. He practically groomed me and honed my skills in business administration, and once I was cooked, he allowed me to fly. I always knew I was going to do stand-up comedy but at the time there were no credible platforms to encourage comedians, that's in relation to stage. So I decided to produce my own sitcom which was Extended Family – that was the catch. Once the sitcom became a hit on TV, I climbed the stage and the acceptance was there. If I wasn't a face on TV, I guess my acceptance in stand up comedy would have taken longer than it has.
Turning point
Turning point for me is hard to pick up as everyday is an adventure. When I did Night of a Thousand Laughs, I was so excited. I thought that was the turning point. When I did Rhythm Unplugged, I felt that was the turning point. When I did a couple of shows in South Africa, I also felt that way. Everyday brings a new step, I will just keep climbing.
Career success secrets
Hardwork, book work and talent, my gift is just to entertain. If I have any unique attributes, I would say God has made me the way I am. Everything I excel in comes to me almost effortlessly. Also, I always prepare for my performances, I dread to hold the microphone and send people to sleep instead of making them laugh. In comedy, you are only as good as your last performance. Every new one comes with new challenges.
Other streams of income
I am an actor, I am a writer, I am a producer. All these skills put bread on the table for me, and I plan to start selling food very soon too.
Future career goals
For me its one day at a time. I have my set goals but I try as much to be grateful for where I have been, my dreams are lofty. But be rest assured that if there is a zenith you haven't imagined, you will see me there. Nigeria is just a stepping stone for me, I will entertain this world soon.
Inherent challenges in comedy business
The biggest problem has to be piracy of jokes. It hurts when you hear another comedian reeling out your routine word for word. Some so called comedians just sit down and wait for you to work, they watch you at a show, tape it, go back home and memorize it. That's daylight robbery!
Dealing with fans
When a fan walks up to me to appreciate me, I give them all the attention I can because I am a fan to certain people and I know how many butterflies I have when I want to approach them. The keyword for me is 'patience'. Some of them get it totally wrong in their approach but I just tell myself that the bottom line is I'm being appreciated.
Weirdest experience with a female fan
One that easily comes to mind is a girl who stalked me for a year because I gave her a peck at her request. Once I did that, she bothered my life so much that I considered throwing my phone away. I never knew a peck could mean more than that for some people.
Favourite Nigerian actress
Genevieve Nnaji
Favourite American comedian
Steve Harvey
Role models among Nigerian comedians
That will be basket mouth, I go die and Gandoki
If you had 5minutes to live
I'll call up all the idiots I know and let them know why it should have been them, then wake up and realize I still have at least 5 more decades to go
What would you die for

The truth
Greatest fear
Amala and ewedu. I've got Amalaphobia (Yes, this is my greatest fear)
Greatest dream
To entertain the world
Favourite time of the day
In the evenings, when I'm alone with my family
By: Isaac Oladipupo
School closed? Get access to Complete Secondary School Education (JSS1-SS3) CLICK HERE!
Follow us on Instagram
|
Advertise With Us
|
Promote Your Music