Three Players To Blame — Rio Ferdinand On Liverpool's Defeat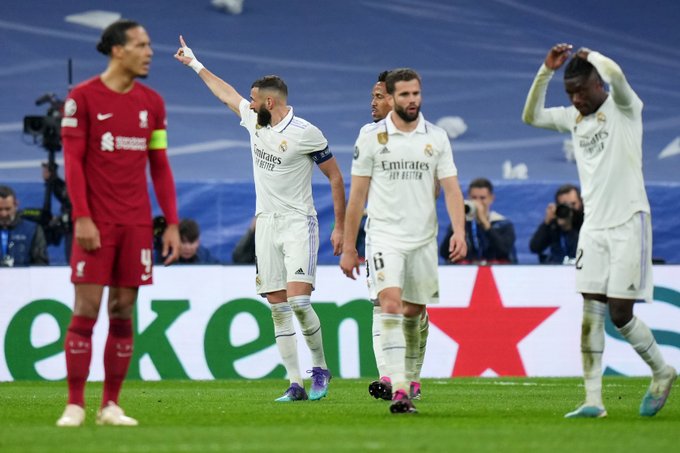 Former Manchester United defender, Rio Ferdinand, has blamed Liverpool players Trent Alexander-Arnold, Virgil van Dijk, and Ibrahima Konate for their team's exit from the Champions League on Wednesday night. Ferdinand argued that the trio's defensive errors led to Real Madrid's decisive goal, which ended Liverpool's hopes of progressing in Europe's elite competition.
Liverpool lost 5-2 in the first leg of the quarterfinal tie at Anfield and faced an uphill battle going into the second leg at the Santiago Bernabeu. Despite an improved performance, Liverpool couldn't overturn the three-goal deficit against the defending champions.
Karim Benzema scored the decisive goal in the 78th minute, latching onto an exquisite through ball from Eduardo Camavinga to seal a 6-2 aggregate victory for Real Madrid. Alexander-Arnold, who was marking Vinicius Jr., left the Brazilian unmarked as Camavinga picked his way through the Liverpool defence to find Benzema.
Rio Ferdinand, who was analyzing the game for BT Sport, was critical of Liverpool Right-Back, Alexander-Arnold's defensive lapse, saying:
"As the ball goes into the centre forward, Trent Alexander-Arnold has got to be thinking defensively. Look at the separation when the ball comes down to Vinicius. He's gone from being side-by-side, to being five yards behind the player he was marking."
The former England international also questioned the lack of defensive cover from Liverpool's centre-backs, Van Dijk and Konate. He argued that one of them should have attached themselves to Benzema as soon as the ball was played to him, while the other should have provided cover and got in front of the French striker.
Liverpool will now turn their attention to the Premier League, where they are currently in sixth place and in danger of missing out on a Champions League spot for next season. Meanwhile, Real Madrid will look to progress further in the competition and continue their quest for a 14th Champions League title.