The World Reacts to Ex-Chelsea Academy Graduate, Jamal Musiala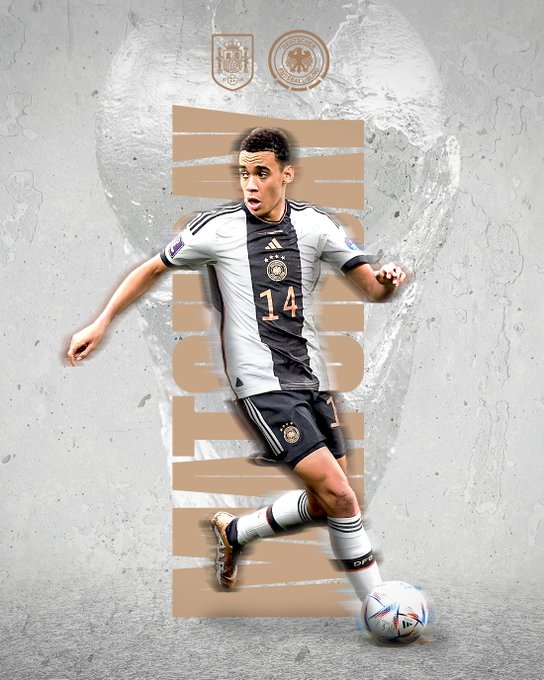 After heroics in the Germany national team, the world can't get enough of Jamal Musiala, a former Chelsea academy graduate.
If there is something we can't begrudge West London club, Chelsea for, it's its academy and the scouting system under former owner, Roman Abramovich judging from its hold on sensational youngsters within its ranks that have gone further to lighten the world.
There is the Kevin De Bruyne, the Romelu Lukaku, the Jamal Musiala and so many more worthy of mention.
However, this time it is the young German attacker Jamal Musiala that is receiving the praise for being a terrific player from former Germany coach Jurgen Klinsmann and former Manchester United goalkeeper Peter Schmeichel.
Musiala has been one of Germany's finest performers at the World Cup event now taking place in Qatar.
The youthful player assisted the European powerhouses in holding Spain to a 1-1 draw on Sunday night to maintain their World Cup aspirations.
The former Chelsea academy product's performance impressed Klinsmann and Schmeichel, who referred to him as "one of the most talented young players" in the world.
Klinsmann told BBC One:
"I think Musiala was the outstanding player for Germany. He's full of surprising elements, he's not scared. He is a fantastic young player…"
Former Manchester United goalie, Peter Schmeichel added:
"The one that really caught my eye was Musiala, what a great player he promises to be."
To have a chance of moving on to the tournament's knockout rounds this year, Germany must defeat Costa Rica in their final group encounter. The previous World Cup champions are now third in their group.
After two rounds of matches, Spain is in first place with four points, followed by Japan with three points and Costa Rica with three points as well.
After the game, Zambian icon Kalusha Bwalya, who revealed the truth about Musiala's African ancestry, spoke about the teenager on SuperSport:
"His father is Nigerian, mother is German. Went to England when he was very, very young. And so he decided to play for Germany which delighted the Germans of course…"