The Guinness Records Leo Messi Sets With World Cup Win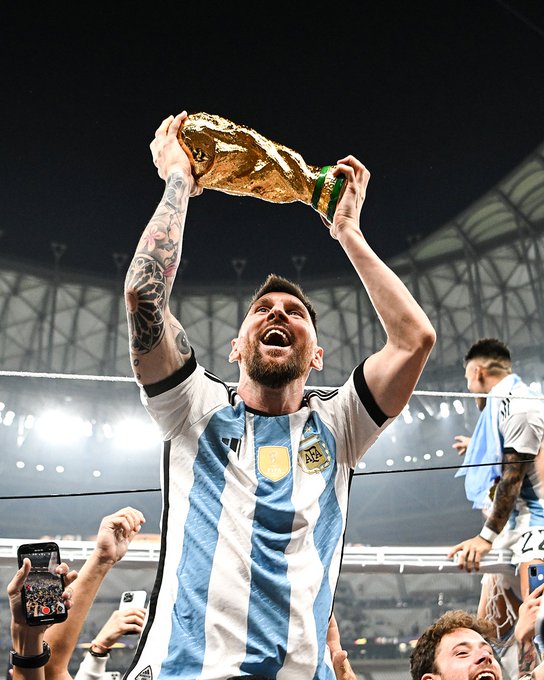 Greatness they say inspires greatness, and for Leo Messi, his abilities on and off the pitch inspires records being broken as Guinness confirms by listing his exploits following the world cup win against France.
It seemed like ages ago when the much talked about criticism of Leo Messi was his inability to inspire his national team, Argentina to international glory, but flash forward to the present day, the Paris Saint Germain star has not only triumphed with Argentina on an international level but did it setting records.
During the 22nd FIFA World Cup in Qatar, Argentina's captain Lionel Messi broke five world records.
Following the conclusion of the 2022 FIFA World Cup competition last weekend, The Guinness World Records made this announcement in a post on their website.
The following are five records Leo Messi currently holds as recorded by Guinness:
Most FIFA World Cup Man of the Match honors (11); first FIFA World Cup playmaker at 5 separate tournaments; most FIFA World Cup appearances (19); most FIFA World Cup tournament appearances by a player (male, 5); and most FIFA World Cup games played by a player (26).
Along with listing the five milestones, the Guinness Book of World Records revealed on Tuesday that Messi's Instagram post had amassed over 62 million likes as of publication, making it the most-liked post ever.
Leo Messi a few days back led Argentina to victory over France in the World Cup final on Sunday, winning 4-2 on penalties. Argentina went on to win the tournament this year.