Tears as 6 children go missing in Lagos community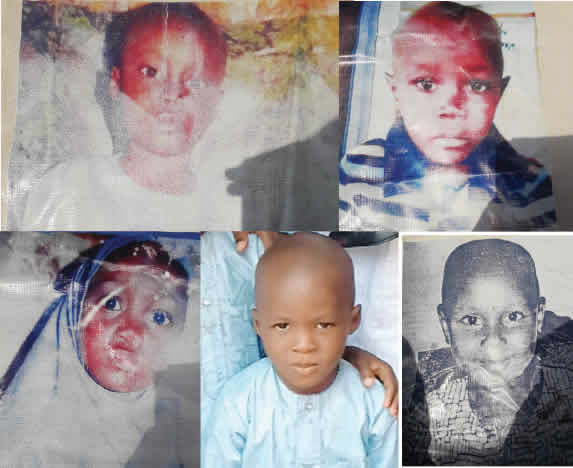 Not less than six children have been declared missing in Idi Araba, Mushin Local Government Area of Lagos State, as concerns over the safety of kids in the community grow on a daily basis.
The names of the missing children are Abdullahi Mohammed, Umairah Umar, Abubakar Sadiq, one Shittu, Abdullahi Olanrewaju and Abdulahad Ibrahim, who disappeared on Wednesday, January 27.
The cconsistent disappearance suspected to be cases of abduction started about two years ago when four of the children went missing successively.
TopNaija gathered that the children usually disappeared while playing with their mates within the vicinity, thereby throwing their parents into confusion.
"He was playing with his mates outside his grandma's house on Garuba Musa Street that Wednesday," Ibrahim's mother, Hadiza, disclosed, her voice overwhelmed by grief.
"After the evening prayer, we couldn't find him. We searched for him till 2am. We have reported to the police," she added, choking back tears.
The incident had left her husband, Abubakar, devastated too. His pale looks and hushed tones bore distress that has enveloped the family since Ibrahim suddenly disappeared.
Having reported the case at various police stations, including Itire, Alakara and Area D, Mushin without any promising results in sight, the 37-year-old father said he had taken solace in God.
"We have been praying for his return," he muttered. "We have faith in God that we will find him. It is a test on our faith and we hope he and other children will be found."
Since Umar's whereabouts became a mystery over six months ago, sorrow appears to have increasingly dominated the heart of Aisha, her mother.
The thought that Umar could emerge from any of the labyrinthine corners connecting their residence on Haruna Street is now a daily fantasy for the middle-aged woman and her husband.
"She got missing last year. I was inside while she was playing outside," Aisha recalled bleakly. "It was not up to an hour when I decided to go out and check on her. Surprisingly, I could not find her. We have gone to all the police stations around us."
Two years after Abdullahi's disappearance, the heartache remains fresh in the minds of his parents. Even though they had got another baby after the sad incident, the joy of childbirth has not meant much to them without Abdullahi in their midst.
The father, Mohammed, 50, told our correspondent that the harrowing experience has impacted his health negatively.
He stated, "I have been living here close to 25 years. My son was four years old when he got missing. We went to the mosque together that afternoon and after prayers, we returned home and he was playing outside.
"Less than an hour later, we could not see him. We reported the case at the Itire Police Station, Alakara and other surrounding police stations. Since that time, we have not seen him."
An elder in the community, Alhaja Aisha Hussein, said residents were amazed at how the children disappeared within the short time their parents left them to play around their vicinity.
She said, "Two years ago, a three-year-old girl was playing outside while her mother was inside sleeping. After an hour, the mother woke up and came out to look for her but she couldn't see the girl. We searched everywhere without any success. We also reported the case to the police.
"There was a boy who was following his father to the mosque on a Friday. The father sent him back and followed him to the last junction to their house before he headed back for the mosque. His mother said she heard him cry while she was praying. She came out after completing the prayer and looked everywhere but could not see him.
"There is a Yoruba boy, Shittu, who was also abducted after he came back from school. The boy was playing outside while his mother was preparing food for him. When she finished cooking, she came out to call the boy but he was nowhere to be found. No one knew how the boy got missing.
"There was also a two-year-old boy who got missing in the same manner. He was playing in front of her parents' house with two other friends. The mother asked them about him but they could not explain his whereabouts."
A traditional leader in the community, Seriki Hausa of Idi Araba and Mushin, Alhaji Hassan Abubakar, said the incidents had become worrisome to residents and urged the government to assist in addressing it.
He said, "This thing started two years ago. Six children have been missing so far without any clue to their whereabouts. We need the government to help us solve this problem. Our people are worried about the continuous missing of children. We have advised parents to always look after their children and always follow them to their schools."
Secretary to the palace and Assistant Youth Leader, Mushin Local Government Area, Hussein Hussein, said they had strong suspicion that insiders had a hand in the cases, noting that two children narrowly escaped from their abductors while a ransom was paid for the release of an abducted child.
He said, "Just recently, a child went missing. A child was also taken but was later released after the family paid a ransom. The kidnapper requested a N1.2m ransom and N10,000 recharge cards. The family tried to conceal the case probably because those people had threatened them. We believe those perpetrators have insiders.
"A boy was abducted on his way to an Islamic school. On getting to Yaba (a neighbouring community), he was dropped off because his abductors saw policemen at a checkpoint. It was a good Samaritan who brought the boy back home.
"There was also another child that was dropped off around Shitta when his abductors saw policemen. We are appealing to the government and security agencies to help us stop this menace. We have told parents that it is their primary responsibility to take care of the children and be watchful over them."
But the spokesperson for the police in the state, CSP Muyiwa Adejobi, said the command was only aware of a case and urged other affected parents to report to the police.
He said, "The command was not aware of these missing person cases. We only recorded one case and we have acted on it. The people of the area should always get the police informed on any happenings in their area. We urge them to come up with their cases or complaints for the police command to act appropriately."