Tears as RCCG Member Heals Cripple, Deaf and Dumb In Akure Market | Watch!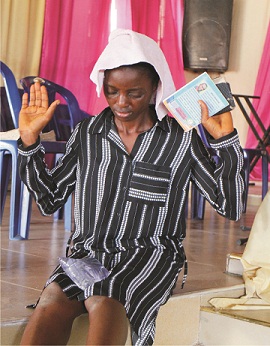 The city of Akure, the Ondo State capital last Friday erupted in wild excitement and jubilation when a 26-year-old woman, Bose Isaac who in the course of evangelism, preaching, prayed for a crippled man with leprosy and two deaf men who instantly received healing.
The rare occurrence which took place within the Erekesan Market popularly known as Oja-Oba, around First Bank junction attracted a huge crowd.
The crippled man who got healed was a popular beggar at the First Bank junction in the market while one of the deaf men known as Chidi was also said to be selling recharge cards at the same junction.
Traders and passers-by according to eye witnesses were said to have abandoned their wares and milled around the lady, requesting to be prayed for.
It was gathered that when the crowd became uncontrollable, the woman was whisked to Chief Elemo's palace, a stone throw from the scene of the event.
Sources said the crowd continued to increase, as they protested why the miracle worker woman was taken inside the palace instead of allowing her to pray for many who gathered outside waiting to receive similar miracles.
At a point, when the crowd was becoming uncontrollable and almost degenerating into a stampede, people at the palace invited the police to rescue them from the impending violence that may break out.
https://twitter.com/topnaija/status/1130838332991266817
Police at the 'A' Division, responded swiftly but faced a tough time before they could rescue the lady from the crowd and she was taken to the divisional headquarters at Alagbaka.
The crowd followed the police van swiftly and as they surged forward, the police had to resort to firing teargas before they could disperse the miracle seeking crowd.
The event which lasted for several hours almost paralysed commercial activities and vehicular movements along the Oba-Adesida 'A' Division road.
When our correspondent visited the 'A' Division, the police said that Bose had been taken to the police headquarters at Igbatoro road.
Eventually, the owner of a fashion designing shop at No 18, Adedeji shopping complex within the Oja-Oba where Bose is working as an apprentice, Mrs. Juliana Okoro from Enugu State was contacted. She told our correspondent that the lady sometimes ago approached her requesting to learn fashion designing.
Mrs. Okoro said: "I asked her to bring her relatives to sign on for her if she is really interested. In February this year, her brother later brought her to my shop.
Since that February, she has not been able to pay the N3,000 I demanded from her as the sign on fee for an apprenticeship. But I was not even eager that she pays the money, she added.
Bose's brother, who brought her to the shop, a 39-year-old, Mr. Jacob Adolewa whom she is also staying with since she came to Akure, speaking with our correspondent, described Bose as a devout Christian, who always read her Bible. "She has always been encouraging me that there is nothing God cannot do.
In a chat with the 50-year-old crippled who got healed, Mr. Jehrome Ademeso, a father of five residing at the Leprosarium along Oba-Ile road in Akure said he had been living with his condition for the past 42 years.
While speaking, he brought out the clutches he was using, and declared "Now I can walk, my daughter has taken them from me.
He said he was also suffering from leprosy and deafness which is why he is residing at Ago-Ireti.
He said; "I was never born a leper, this condition had destroyed my life for 42 years, but I am very happy now that I am healed. I thank God for this and I need to thank that woman that prayed for me.
I was crippled, deaf with leprosy and the lady prayed and touched me, now I can walk and hear all what the people are saying, he declared.
Miss Bose Issac, a native of Isua Akoko who lived in Lokoja with an uncle came to Akure in February this year to live with her cousin as her aged parents were in Akoko who cannot afford her upkeeps.
She is a graduate of Government Technical School Lokoja and a devote member of The Redeemed Christian Church of God, Akure. She was described as a very quiet young lady. In an interview with The Hope, she said: "My pastor has already told me that God will use me for my family.
She narrated to our correspondent how she came in contact with the Holy Spirit saying.
"I was in the shop one day, while working, I saw someone passed and came back to me, he directed me to read some scriptures from the Bible in book of psalms 19, Isaiah 47, in water for 10 days that I will discover the will of God for my life.
I started last week and the 10 days have not been completed. I never knew I would feel such because I was trying to locate where my brother was. I saw the leper on my way as he blocked my path. The rest that happened, I cannot explain.
I attend Redeemed Christian Church of God. My pastor had told me that God will use me greatly for his great works. But I was always laughing I did not understand, he was always giving me prayer points and he also pray along with me.
Leverage social media to make more money and grow your brand in 2019! Attend The Social Media Wealth Masterclass with Isaac Click here to ENROL NOW!
Follow us on Instagram
|
Advertise With Us
|
Send Us News Tips
|
Promote Your Music
Former AMCON chairman, Muiz Banire finally speaks up on his replacement
Former chairman of the Asset Management Corporation of Nigeria (AMCON), Muiz Banire who has finally spoken on his replacement says he was disturbed after the news broke.
On Tuesday, President Muhammadu Buhari implemented the amended AMCON law by replacing Banire with Edward Adamu, deputy governor for corporate services at the Central Bank of Nigeria (CBN).
In an article published by The Sun, Banire said he was in London when he received the report that a new chairman had been appointed at AMCON.
He said he got disturbed by the insinuations which made the rounds over the development.
"News about this development came to me while in London in the middle of a crash education programme," Banire said.
"Interestingly, I was disturbed with complaints and murmurs by some people who read lots of insinuations into the development and were apparently in a mourning mood, as if disengagement from a political appointment was tantamount to bereavement.
"The grumbling from the supposed well-wishers underscores the problematic aspect of Nigerians as a people who see appointments into political offices as open sesame to riches and an opportunity for self-enrichment.
"Whereas, in saner climes, political offices are seen as opportunities to serve humanity, to the glory of God, in Nigeria, it is seen as an opportunity for self-enrichment.
"My days in AMCON as chairman were dominated by pressure I gladly entertained with all sense of responsibility in order to be able to serve my people."
Banire added that people do not bother if political officials succeed in their duties, but they would rather see the appointment as an opportunity for self-enrichment.
"Once an appointee is relieved of his appointment, mournful glares compete on burrowed foreheads, languid expressions of personal losses dominate discussions among beneficiaries or intended beneficiaries of loot from a public office recently lost," he said.
"Lots of motives, from ethnicity to religion, to personal scores and political intrigues are adduced as reasons why the appointor must have terminated the appointment or disengaged the public office holder. In my situation, messages of consolation and clear condemnation oozed from some mouths the moment it was announced that a new nomination had been made.
"It was a terrible distraction as I was struggling to imbibe as much as possible from the highly intellectually resourceful lecturer that was handling the on-going session. Calls came into my phone in torrents. Loads of messages poured into my phone with the constant flashes of light from the mobile gadget constituting a needless distraction until I had to switch it off.
"That you were considered worthy to serve the public in an elective or appointive office is an opportunity to give your best to the community to the benefit of the living and in preparation of a decent living for the yet unborn generations. It must not be regarded as a kingship on which someone should expect life tenure.
"In fact, as may be recalled, during the resistance to my nomination at inception, I clearly made this point that "I am not jobless and, therefore, not in search of any appointment." I only owe the nation my service whenever called upon and I have the capacity to deliver."
Leverage social media to make more money and grow your brand in 2019! Attend The Social Media Wealth Masterclass with Isaac Click here to ENROL NOW!
Follow us on Instagram
|
Advertise With Us
|
Send Us News Tips
|
Promote Your Music