Super Eagles Players Celebrate Argentina Loss to Saudi Arabia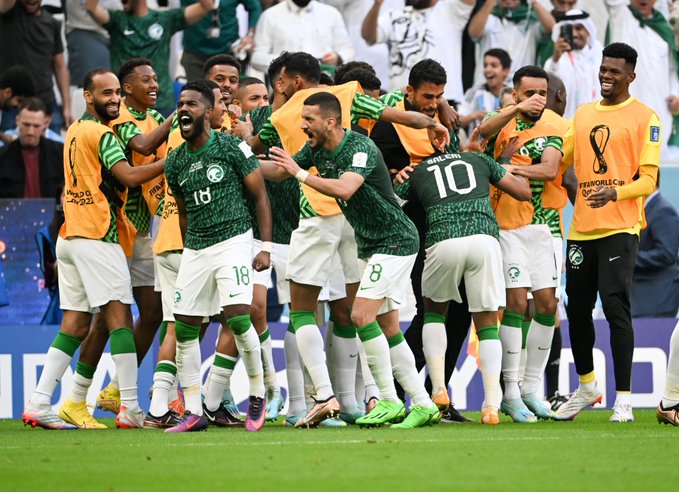 If there is a country that has suffered the most at the hands of South American team, Argentina in world cup tournaments, it is definitely a certain team that always came on Green, the Super Eagles, and as if it was always a deliberate effort to pair Argentina with a team in green at every world cup event, FIFA paired this time the Argentines with Saudi Arabia.
Again, another team in green to dent its world cup dreams at the hands of Lionel Messi, but unlike the previous times, this team in green, Saudi Arabia learnt from their counterparts, the Super Eagles of Nigeria's shortcomings against Argentina to instead steal a rare victory on the afternoon.
Of course, to the world it came quite as the shocker, more so that Super Eagles players, Odion Ighalo and Ahmed Musa who were all too familiar and have witnessed very often Argentina humiliating them, took a sigh of relief after being avenged  by their Saudi Arabia counterpart to celebrate the Arabs victory.
On Tuesday at the 2022 FIFA World Cup, Nigerian talents Odion Ighalo and Ahmed Musa celebrated Saudi Arabia's incredible 2-1 victory over Argentina.
When the Green Falcons defeated one of the tournament favorites at the Lusail Iconic Stadium, they achieved one of the most unexpected victories in the competition's history.
When Lionel Messi gave Argentina the lead from the penalty spot after 10 minutes, they were on track for an easy victory.
Saleh Al-Shehri and Salem Al Dawsari scored twice in quick succession in the second half to swing the deadlock in their favor.
Ighalo, who is presently the Saudi Professional Football League champion, celebrated Herve Renard's team's historic triumph on social media.
"Congratulations Saudi Arabia," Ighalo wrote on his official Instagram account.
What A Win And What An Amazing Display From The Guys 👌🏽 Congratulations Saudi Arabia 🇸🇦 pic.twitter.com/EIjAlA33Xj

— Jude Ighalo Fans (@judeighalofans) November 22, 2022
Musa, who was once in the books of Saudi club, Al Nasr wrote on his Twitter page: "Congratulations to my Saudi Arabia Fans."
For some reason, Argentina vs. Nigeria is living up to the hype of being a grudge fixture for Nigerians specifically in world cup tournaments, and for the Argentines, they surely miss Nigeria in the showpiece that usually turns out to be guaranteed 3 points for them in group stage fixtures.
With no Nigeria in the tournament this time, the world wonders where the next 3 points becomes readily available for the Argentines to gain an upper-hand in the group stages.