#SuccessStory: How This Moi Moi Seller Made Over $100,000 From Just $3!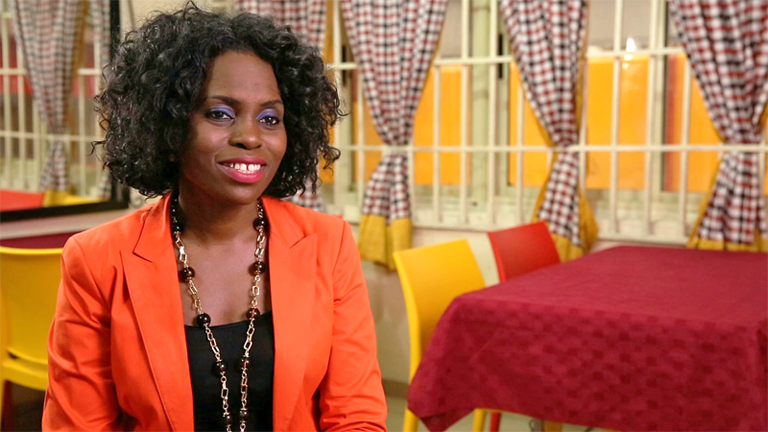 Success can sometimes be found in the most unexpected places. It could lurk in detested and pitiful areas, and is then only achieved by those who have the guts to ignore all the pain and shame that comes with the process, and remain focused till they strike gold.
This type of success resonates hope for people who run odd businesses or side-hustles, and feel they're only spinning in circles with no hope of real success to eventually come their way.
This is the success story of Ayo Megbope, a Moi-Moi (bean cake) seller who hustled against all odds to eventually grow a successful business with a turnover of over $100,000 a year!
Here's how she did it:
The Early Work-Life Of Ayo Megbope
Success Story Of Ayo Megbope
Image Source: zeesaamagazine.com
Ayo Megbope was a trained confidential secretary, who worked at the Corona Schools, in Lagos, Nigeria, for nine years. After working with Corona for so long, she decided to quit her job to start a playgroup.
To achieve this, Ayo Megbope signed up for a six months Montessori program to understand everything about the business. But by the time the program had ended, she lost total interest and was no longer motivated to run a play group, because according to her, it was no longer exciting.
Now without anything to do, Ayo Megbope started cooking for her sister-in-law, so she could keep herself busy. She would make all kinds of meals from soups to stews, and a lot more.
Then one day, her sister-in-law visited her, only to meet her family having a meal of Moi-Moi (baked beans). Ayo had prepared this meal from the last 1,000 Naira ($3) they had in their home, given to her by her husband to prepare dinner.
The Moi-Mois were so tasty that her sister-in-law asked that she started preparing Moi-Moi for her inclusive. In the process, her sister-in-law's friends and colleagues started placing orders for the Moi-Mois from Ayo Megbope.
Small Successes
In about three months from selling her Moi-Mois to family and friends, her monthly turnover was already between 30,000 to 40,000 Naira.
At this point, she realised she was on to something and had to maximise her profit margins, since the best way to run any business would be to have a high turnover.
Finding a place to grow her trade was now difficult. After much ado, she decided she'd go back to the school she used to work at, to see if she could sell them some of her Moi-Mois.
According to an interview Ayo Megbope had, she said; "I would show up in my rickety Peugeot car, with wraps of moin-moin in a cooler. I would stand at the school gate, and begin to call each parent by their first name or their children's names, and attempt to sell them moin-moin. They were used to seeing me in skirt or trouser suits, but were now seeing me in Ankara outfits. It was an humbling experience. They were like, sebi we told you not to leave Corona but you did, see what you are selling now. Moi Moi. This is bad….but i sold still"
But as soon as they started patronising her and buying her Moi-Mois, they started requesting for other delicacies like meats, stews, soups, and a lot more.
Her Big Break
Success Story Of Ayodeji Megbope
Image Source: twitter.com
At this point, Ayo Megbope could not really account for what she was making because she kept no real records, despite her revenues growing. Then she read in the newspapers that a United Nations team was coming to Nigeria to invest in women-owned businesses. It was a partnership between Goldman-Sachs and the Enterprise Development Centre (EDC) at the Pan Atlantic University, to empower about 10,000 women entrepreneurs.
Every participant was required to write and submit an essay. Ayo Megbope did that by simply writing what she was doing, which was selling and hawking Moi-Moi in front of a school.
The 5-months long program opened her up to information she wish she had known a long time ago. It showed her how to structure her business, organise her finances, build great communication skills, and improve her customer service experience.
The Growth And Expansion Of Her Business
By the end of the program, her business, now called No Left Overs Nigeria Limited, experienced a major overhaul. She opened a bank account, has now hired nearly 50 staffs, including temporary workers, and got her accounting right. She went from a one-product business to becoming a full-on catering outfit, servicing over 1,000 people.
Her Moi-Moi sales in one week alone, was now able to pay all the staffs salaries in a month, and this was a major milestone.
Within a year from her time at the Goldman Sachs training done in partnership with the Enterprise Development Centre (EDC) at the Pan Atlantic University, she was finally able to purchase a delivery van.
See Also: How A Former Vulcanizer Made Over $100 Million Dollars
Her Achievements Today
Success Story Of Ayodeji Megbope
Image Source: youtube.com
Ayo Megbope's success was so remarkable that she was invited to the Annual General Meeting (AGM) of the Goldman Sachs, was on the panel of the Turkish Prime Minister's Global Summit on Entrepreneurship, and has held meetings with former American first lady Michelle Obama and former American president Bill Clinton.
To Sum It All Up
Ayo Megbope is an inspiration to entrepreneurs who run odd businesses and feel they're wasting their time. She has shown that no matter how petty a startup's products and services may be, positioning your business at the right place, with the right price, and constantly improving your knowledge, will set you up for success.