#SuccessStory: The Cool Shoes That Fired Up A Dream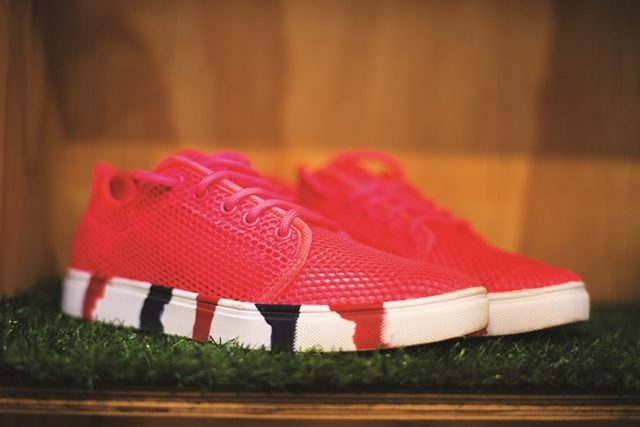 They had no sneakers as kids, now Andrew Lale, and his business partner Theo Baloyi, are making thousands of them – and demand is growing.
Amid the sprawling shacks in the township of Alexandra, north of Johannesburg, a few kilometers from Africa's richest square mile, Sandton, is Andrew Lale, a young entrepreneur who grew up without sneakers and now makes money with them.
When I meet Lale in downtown Johannesburg, the first words out of his mouth are a sign of prosperous times. He apologizes for having to do the interview alone, his entrepreneurial partner Theo Baloyi is in Dubai on business.
"We are trying to expand Bathu to the Middle East. It is always spring or summer there, it's hot, the weather favours us a lot. So he is trying to get our sneakers that side," says Lale, co-founder of Bathu, the company that makes shoes out of mesh, which is cool in more ways than one.
"We call it the only breathing sneaker. When you wear it, it's the coolest sneaker and it feels comfortable. We also realized that a lot of people have sweaty feet, so this sneaker could help a lot," says Lale.
'If Hunger Can't Inspire You, Nothing Can'
Lale and Baloyi met as children playing soccer, without shoes, on the streets of Alexandra. Their friendship was bonded by a dream of owning, and making, their own sneakers. Years later, they have sold all the 600 pairs of sneakers they made, and have just started production of 1,000 more.
At the age of 15, as they were pursuing their dream, Lale sought advice from his neighbor who sold pocket squares and cufflinks.
"I said to my friend, 'because we want to go into business, and we don't know the journey and the story behind entrepreneurship, this is the right guy to talk to'. He gave us the pocket squares and cufflinks to sell and make a profit for ourselves," says Lale.
The boys weren't successful but they were given another chance when the neighbor ventured into cosmetics. They sold everywhere they could during school holidays, and this time they did well. That's when they realized they had the knack for entrepreneurship.
They saved every cent they earned and reminded each other of their dream.
Lale went on and studied to become a paralegal while Baloyi studied a BCom in accounting. After Baloyi graduated, he went to Dubai for the first time and met a French entrepreneur. He then remembered the shoemaking dream he shared with Lale.
On his return to South Africa, in 2015, the two researched the shoe industry and realized there was no African shoe brand with an African story. Everyone in their neighborhood had foreign brands on their feet.
Later that year, Lale and Baloyi registered and copyrighted Bathu. They worked on the concept for 18 months. They wanted to use a word that South Africans can affiliate with, and found Bathu (a colloquial term for shoes).
"We analyzed trends, hip hop was a genre big in South Africa and we realized that most young cats, including me, spend too much money on sneakers and we consume too many foreign brands, more than our own [brands]," says Lale.
The pair had their idea, now they needed money; the problem was nobody was prepared to back them financially. Baloyi was putting away some of his salary while Lale was selling make-up and weaves in the streets. "As Theo was working, I was doing my thing on the side; selling women's hair like Peruvian and Brazilian weaves. Selling them all over the Joburg CBD, Alexandra, Pretoria, Thembisa, I was just all over Joburg including the townships," says Lale.
After Lale graduated, he didn't want to work for anyone, he says.
"They say money is a drug, you make it and you get addicted. I used to push all over the streets."
After a tough 18 months, Bathu was launched, on September 19, 2016. It was so popular their website crashed due to the high demand. Lale says it's because people felt an affiliation with the name and loved the story behind the shoes.
They initially produced 100 sneakers and went around townships selling them door-to-door. They were sold out within a month.
With the profits that were made from the first 100 sneakers, the money was reinvested to produce more pairs.
Other aspiring entrepreneurs wish they were walking in Lale's shoes.