TopNaija Stories: Tunde McIver, Founder, Muster Point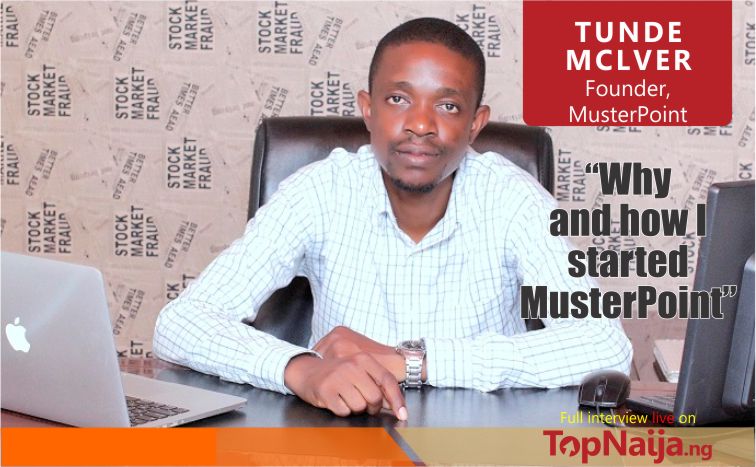 Nigeria's budding tech ecosystem needs more incubators and enabling environment to accelerate the growth of technology entrepreneurs, more so at a time when Nigeria is considering technology as a potential economic savior, the way to go is to encourage the establishment of more incubators with a public-private partnership structure.
Also the era of struggling to build, or rent offices before starting a business is becoming a thing of the past, as the availability of co-working spaces make it possible for small and medium businesses to start-up their business and run sufficiently.
Mr. Tunde McIver, Founder, Muster Point, in this exclusive interview with Topnaija.ng takes us into how Muster point is positioned to meeting this need.
McIver takes us through how Muster point was conceived, challenges in the tech ecosystem in Nigeria, and what the recent trend of relocation away from the Yaba technology cluster potent for the tech ecosystem, in an interview with Topnaija.ng Kingsley Igbafe.
1. How did Muster Point come about? What inspired it?
Muster Point was a solution to my own personal need. I have always wanted to develop ideas that solve problems in Africa. I resigned at a Startup Company i worked in for 7years to venture into developing a consumer product alongside some Asian partners. During this period, I was in need of a place to work and be productive but the only available space was a cyber cafe in my neighborhood. The place was a cluster for internet fraudsters and some jobless young men and it wasn't ideal for me at all.  Sometimes, I worked from my friends' place who were sport entrepreneurs. However the environment was still not the best as some of their job seeking friends could come around anytime to visit them. It was during this period that i thought of the idea of developing a co-working space that will meet the needs of startups like mine within the neighborhood. That's how i began the journey to starting Muster Point. Muster Point is an answer to my own personal need and that of some of my friends starting up their business.
2. Were there any challenges you faced? What are they and how did you overcome them?
The main challenge was funding as the idea of co-working and incubation is not so popular among prospective local investors.
I used some of my savings and got some support from friends and families to start the co-working space.
What services do you offer at Muster Point?
We provide affordable workspaces, virtual office services, meeting rooms, training room and event hosting.
Our incubation programs is in the works and will soon commence.
What is the cost for your co-working services and what does it cover?
 It depends on what you want and the duration- most especially the duration. Prices start from as low as a thousand Naira an hour to three hundred and sixty thousand for a year.

3. What challenges have you had in bringing up these new generation of digital entrepreneurs?
The main challenge still remains funding and inability of the startups to consistently pay for the service. We have identified our niche market and things are better now.
4. In terms of investment, when you consider the cultural trend, Angel investment, venture capital are not very common here. Do you think that the flourishing startup ecosystem in Nigeria is changing that?
Off course the posturing of investors towards the ecosystem is a lot more positive now than some years back. Having more startups flourish will definitely improve the investors' appetite. I also think our enormous young population is also good for investors as it gives a reassurance of availability of talent to feed the ecosystem.
5. Talking about the budding Tech Ecosystem in Nigeria, recently the iDEA Hub and a Red Hat training Centre closed shop in Yaba, relocating to the island and with Muster Point located in Ogba, what are your thoughts on this trend? Do you think it will have any impact on the tech ecosystem when likened to Silicon Valley?
I will like to say that the idea of a Silicon Valley kind of concept cannot work in this ecosystem. The infrastructural deficit is huge and commuting particularly in Lagos doesn't favour the Silicon Valley concept. I believe we will have clusters spread around the city. E.g Ikorodu cluster, Festac cluster e.t.c. I really don't know what led to the closing of iDEA Hub. However, my opinion is lowering your cost and innovating regularly is key to surviving in this ecosystem. Muster Point is positioned to prove that we can build effective clusters that meet the space, collaboration and infrastructural needs of various startup founder scattered around communities in Lagos.
6. What are the criteria to be a developer at Muster Point?
We are not hiring developers yet. We will be doing so very soon.  The criteria is still in the works.
7. Where do you see Muster Point in the next five years?
Having two more locations outside Ogba. They will most likely still be on the mainland area of Lagos.
Exchange your Bitcoins & Perfect Money to Naira - Get Paid Automatically in 10 Seconds!
Follow us on Instagram
|
Advertise With Us
|
Promote Your Music