"Serves them right!"- Actress Georgina Onuoha mocks the Ekweremadus over jail sentence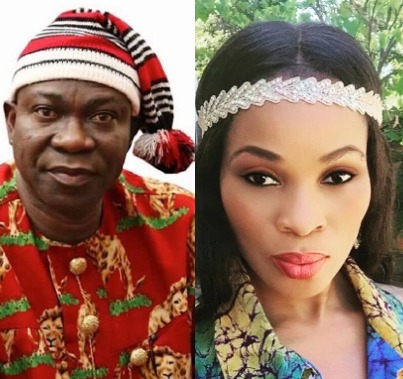 Georgina Onuoha, a popular Nigerian actress, has voiced her opinion regarding the recent sentencing of former Deputy Senate President, Ike Ekweremadu, his wife Beatrice, and their doctor, Obinna Obeta.
Ekweremadu and his wife were sentenced to 21 days in prison, while their doctor was fined for providing false information to the Economic and Financial Crimes Commission (EFCC).
In response to the news, Onuoha took to social media to express her satisfaction with the verdict. She condemned politicians who use their positions of power to take advantage of others and urged Nigerian healthcare professionals not to sacrifice their licenses for the sake of politicians who neglect the healthcare system in the country.
Onuoha also criticized Ekweremadu for embezzling public funds meant for hospital construction in his home state, and expressed hope that his imprisonment would be extended. She went on to express sympathy for the couple's daughter, wishing her good health and success. Onuoha emphasized the importance of seeking help and speaking out against wrongdoing, and encouraged those who do so to have faith that help will come.
It is important to note that corruption and embezzlement are pervasive problems in Nigerian politics, with many politicians accused of using their positions for personal gain rather than serving the public interest. The EFCC, the country's anti-corruption agency, has been cracking down on corruption and financial crimes in recent years, and has secured several high-profile convictions.