RUSSIA/UKRAINE: Ukraine gaining grounds as Crisis rage on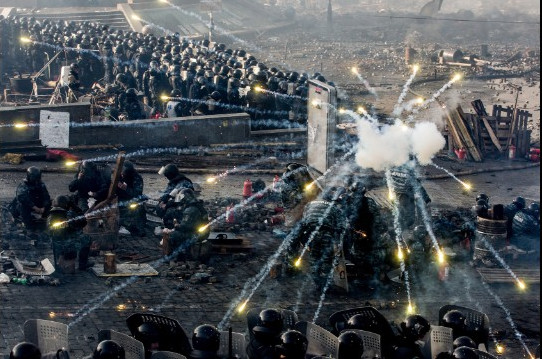 The crisis between neighbors; Russia and Ukraine seem to be going from bad to worse, as every dawn breaks, with no side ready to come to a diplomatic agreement while the conflict drags the rest of Europe in its geo-political fight.
According to recent reports, Russia seem to be on the losing end, having suffered a huge loss as dozens of its tanks were destroyed after the Ukrainian army blew a bridge that stood over the Siverskyi Donets river in the Luhansk region.
Satellite images gathered by BlackSky; a geospatial intelligence firm, show that the bridge described as being used primarily for military purposes  was leveled on 10 May after Ukrainian artillery had struck its surrounding area.
The report was further backed on as on Wednesday, the Ukrainian defence ministry shared same images, with the caption, "Ukrainian ground forces, artillerymen of the 17th tank brigade, have opened the holiday season for ruscists", in reference to the Russian soldiers.
Head of the Luhansk Regional Military Administration, Serhii Haidai revealed that the Russian army had created a bridge to transfer military gear and personnel but saw its destruction in the attack along with equipment and troops.
"In Bilohorivka, where the enemy tried to create a solid crossing and transfer equipment and personnel to our side, he was partially successful, but now all pontoon crossings have been destroyed, all equipment has been destroyed and the remaining personnel have either been killed or have fled by swimming across to the other side." he said.
From the estimates gathered by Forbes, around 50 vehicles and a thousand Russian troops were caught by Ukrainian artillery, claiming the destruction of an entire battalion to land a major blow on the Russians.
While the Russians count their losses, British intelligence gather that there will be reprisal attacks as the Russian forces look to redeploy and replenish.