Roads blocked as workers protest to National Assembly over minimum wage [PHOTOS]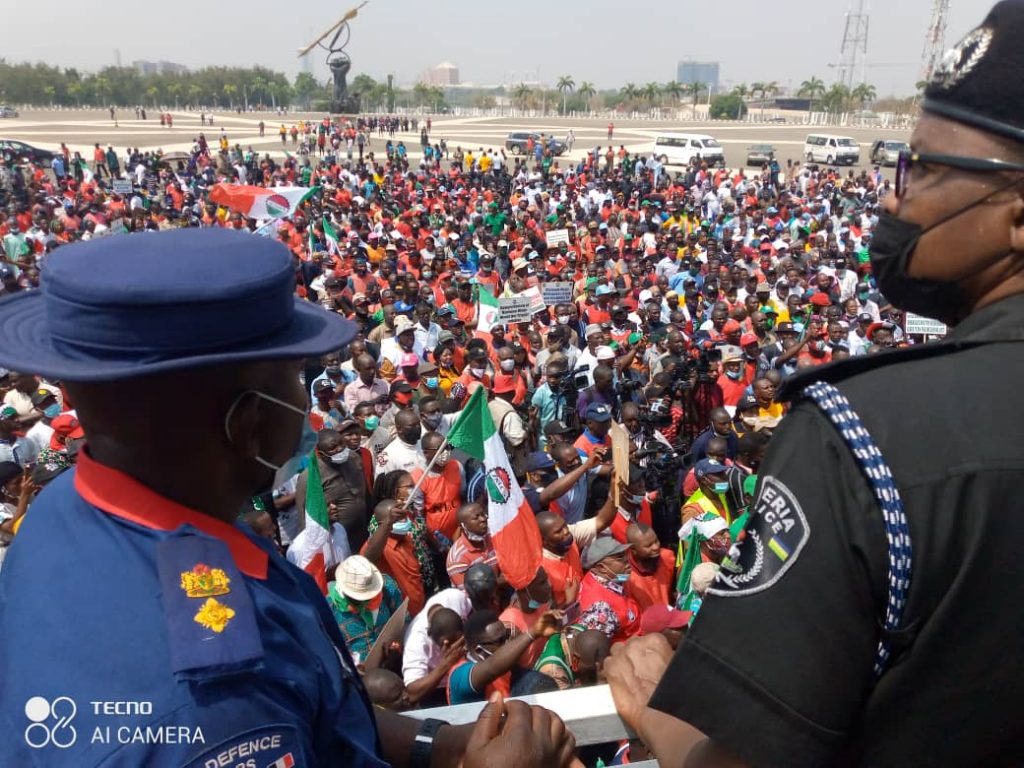 Thousands of members of the Nigeria Labour Congress have commenced a protest march to the National Assembly complex in Abuja, TopNaija reports.
The highly vocal union and its members are demanding the withdrawal of a bill that would remove the National Minimum Wage from the exclusive to the concurrent legislative list.
Just about two weeks ago, the House of Representatives has introduced the bill which according to the sponsor, Garba Mohammed (APC Kano), would allow both the federal and state governments to freely negotiate minimum wage with their workers " in line with our federalism."
The organised labour however opposed the bill, claiming it would undermine the working class in the country. The protesting workers marched on the Shehu Shagari Way towards the NASS complex.
The procession caused traffic gridlock forcing motorists to seek alternative routes to avoid being caught in the traffic logjam.
The workers forced their way into the National Assembly premises. The organised labour, which comprises workers from the public and private sector were led by the leadership of the Nigeria Labour Congress and the Trade Union Congress.
The NLC and TUC leaders jointly presented their letter of protest to the Deputy Chief Whip of the Senate, Sabi Abdullahi, for onward delivery to the leadership of the National Assembly.
The NLC Chairman, Ayuba Wabba, warned that the workers would embark on a nationwide strike if the bill which had passed first reading at the House of Representatives is not stopped immediately.
Wabba also demanded full autonomy for the Local Government. Abdullahi, who addressed the workers, said the National Assembly will not pass a bill that will be against the Nigerian workers.
He also said that the National Assembly was committed to full autonomy for the local governments in Nigeria.
💰Make, Manage & Multiply More Money FREE CLICK HERE👌
How to JAPA to the UK easily [Free Application Templates]