Rivers State Residents Reject Their Governor, Nyesom Wike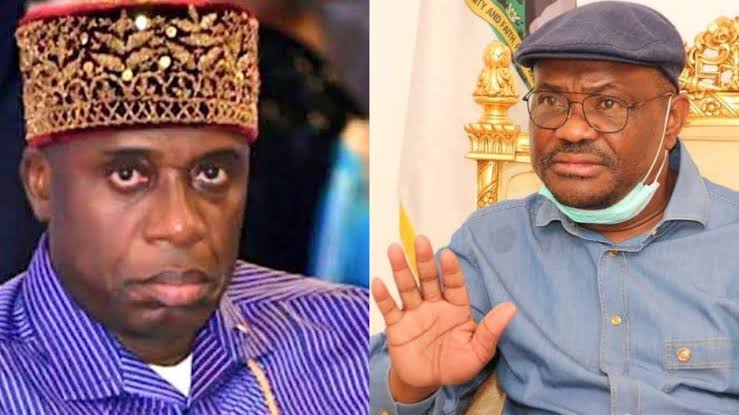 The former Minister of Transportation, Rotimi Amaechi, on Wednesday have announced that  the  Rivers State residents have rejected the governor of the state, Nyesom Wike.
The former governor also called on the Independent National Electoral Commission to be neutral in Saturday's March 18 governorship elections.
Amaechi said this while soliciting support for the state All Progressives Congress governorship candidate, Tonye Cole, at an event in Ogba-Egbema-Ndoni Local Government Area.
He said when he was in charge of the state, his administration made investments across various sectors, but Wike could not boast similar projects.
He also criticised Wike for saying he was drinking a 40-year-old whiskey when the Peoples Democratic Party members were protesting at the INEC headquarters in Abuja.
"Every street I went to, people were jumping on top of me shouting. They were remembering that I built five flyovers; I did not dance.
"We employed 400 new doctors, bought cars for 600 doctors, bought ambulances for all the health centres.
"We went round primary schools to see what's going on, and discovered there were no teachers, so we hired 13,200 teachers.
"By the time I left as governor, there was a contractor in every school to maintain the school. Where are the schools that he (Wike) built?
"Compare Tonye and the other man, then compare our government with that of Wike. Did Wike do (construct) schools, did he do (supply) electricity? Your health care, we did.
"When you see Tonye Cole who is a businessman, from business into politics, why won't you invest in him? This is your time, come out and vote. When we win, things will change," he said.
He, however, encouraged the residents to vote en masse for Tonye Cole over the governorship candidate of the PDP, Siminialayi Fubara, who he described as Wike's protege that would bring similar anguish to the state.