Real Madrid suffer setback ahead of Manchester City clash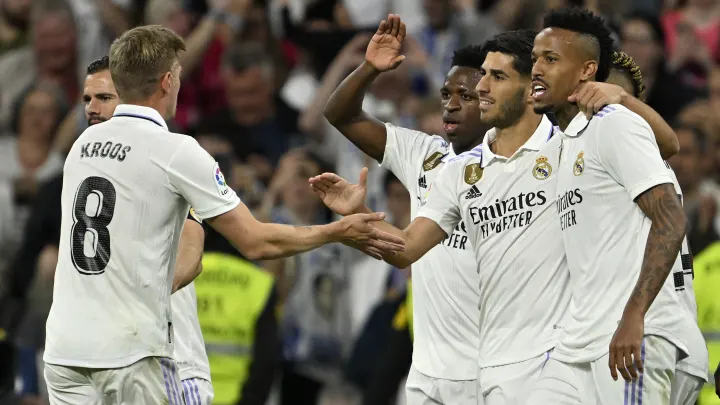 Real Madrid manager Carlo Ancelotti has revealed that midfielder Eduardo Camavinga suffered a knee injury during their 5-0 victory over Getafe on Saturday, posing concerns for their upcoming Champions League clash against Manchester City.
Ancelotti, who made eight changes to the starting lineup that faced Manchester City in the first leg, included Camavinga in the starting XI against the Premier League champions. However, the young midfielder was forced to leave the pitch during the closing minutes of the La Liga match due to a twisted knee.
Despite the injury scare, Ancelotti has attempted to allay fears regarding Camavinga's fitness ahead of the crucial Champions League semi-final second leg at the Etihad Stadium on Wednesday.
While providing an update on the midfielder's condition, Ancelotti stated, "He twisted his knee, but it's just a knock. Tomorrow he'll rest like everyone who played, and I hope that on Monday he trains with the team."
The Real Madrid manager expressed optimism that Camavinga would recover quickly, emphasizing the stability of the player's knee. Although Camavinga is currently experiencing some discomfort, Ancelotti reassured that the knee's stability remains intact, which is of utmost importance.
According to Ancelotti, "He'll recover soon for sure. The knee is stable; he has some discomfort now, but the important thing is the stability, and he has that 100%. He has some discomfort in the knee, but it's nothing."
The injury to Camavinga presents a potential setback for Real Madrid as they prepare to face Manchester City in the decisive second leg of the Champions League semi-finals. Real Madrid is aiming to overturn the 1-1 draw from the first leg in Madrid to secure their spot in the final.
The club's medical staff will closely monitor Camavinga's recovery and work diligently to ensure his readiness for the crucial encounter. Ancelotti and his team will be hoping for a positive update in the coming days as they plan their strategy to overcome the formidable Manchester City side.
Real Madrid's clash with Manchester City promises to be an enthralling encounter, and the injury setback for Camavinga adds an additional layer of complexity to the Spanish club's preparations.
The players, coaching staff, and fans alike will eagerly await further updates on Camavinga's condition, hoping for a swift recovery and his availability for the crucial fixture against Manchester City.