Protesters storm INEC office, native doctor performs ritual (Video)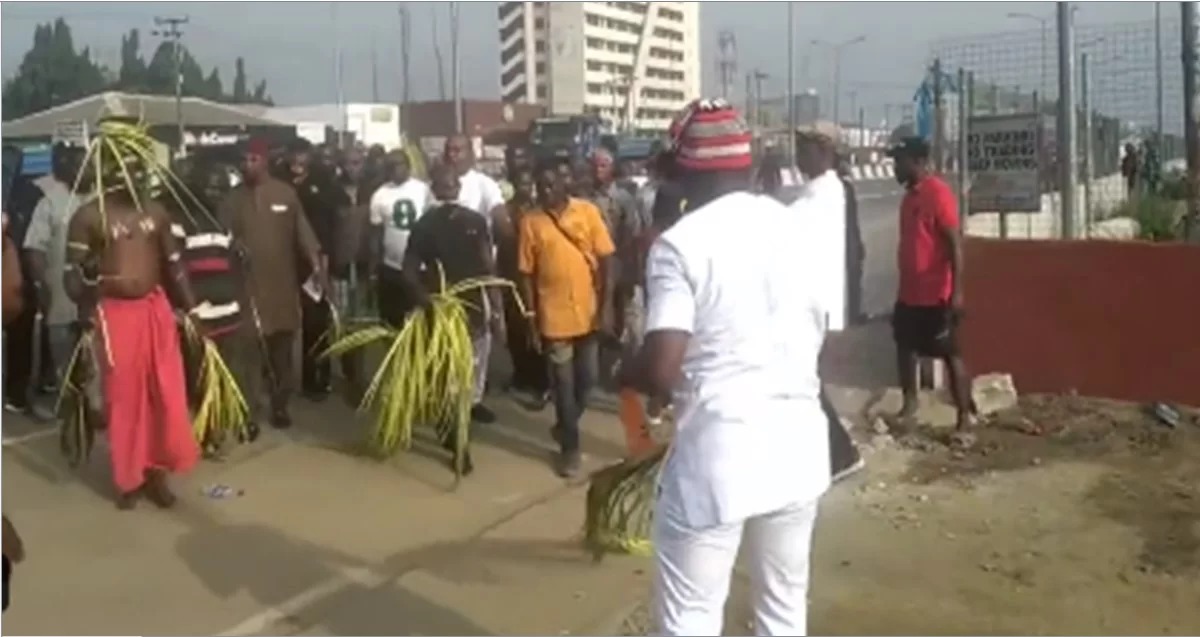 A group of protesters, allegedly supporters of the Peoples Democratic Party (PDP), on Tuesday stormed the Rivers State headquarters of the Independent National Electoral Commission, INEC in Port Harcourt with a native doctor.
The protesters, who were carrying a pot of charms and palm fronds, notably to that of a native doctor, besieged the main entrance to the INEC office, demanding a joint inspection of election materials used in the 2023 governorship election.
The incident occurred on the second day of continued protests by the group.
On Monday, the same PDP supporters had reportedly attacked Tonye Cole, the governorship candidate of the All Progressives Congress (APC), preventing him from accessing the INEC office where he was scheduled to meet with the commission's officials.
During Tuesday's protest, the chairman of Ikwerre local government, Samuel Nwanosike, dressed in a white outfit, recited incantations while being assisted by the herbalist.
The group accused INEC officials of bias and demanded that the commission allow them to inspect election materials used in the 2023 governorship election.
The protest caused a temporary disruption of activities at the INEC office, with staff members and visitors forced to remain inside the premises until the situation was brought under control by security operatives.
The Rivers State Police Command has yet to make any statement regarding the incident.
JB Update: Drama as PDP protesters storm INEC's office with herbalist, charms in Rivers State.#JBreport pic.twitter.com/dQypKXKLQ3

— JebsonTV (@jebsontv) April 4, 2023