'Prison not 5-star hotel'- Court grants Nnamdi Kanu maximum comfort in prison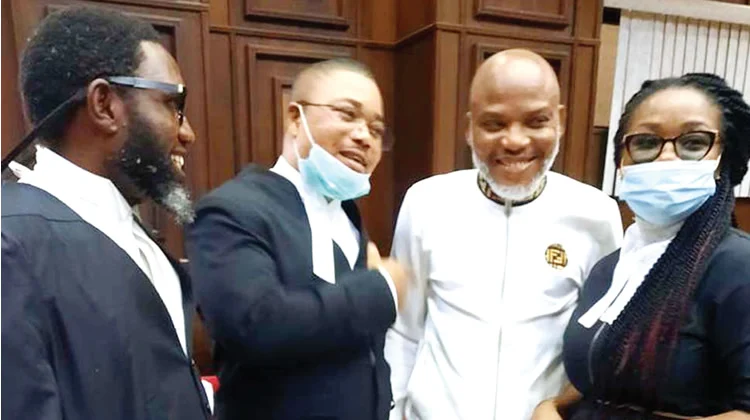 On Thursday, Justice Binta Nyako of a Federal High court in Abuja ordered the Department of States Services (DSS) to allow Nnamdi Kanu, leader of the Indigenous People of Biafra (IPOB), to have the "maximum possible comfort" in its facility.
Counsel to Kanu, Ifeanyi Ejiofor, has consistently complained about the poor conditions the IPOB leader is allegedly being subjected to. On November 16, Ejiofor told the court that Kanu had not been allowed to change his clothes since he was arrested.
At the court session on Thursday, December 2, Ejiofor, in an oral application, requested an order for his client to be given maximum comfort.
Ruling on the application, Justice Nyako said a custodial centre is not a "five-star hotel" where he can receive maximum comfort. The judge however ordered the DSS to provide Kanu with the "maximum possible comfort".
She said he should be allowed to have a bath whenever he wants, change his clothes, eat properly and practice his faith.
Meanwhile it has been uncovered that Nigeria's secret police, Department of State Services (DSS), spends a minimum of N500 million each day it brings the leader of the Indigenous People of Biafra (IPOB), Nnamdi Kanu, to court, top sources have told TopNaija.ng.
The huge amount, it was gathered, goes into providing logistics including adequate security around the movement of the IPOB leader from DSS' facility to the court and back to the place.
"The amount spent to bring Kanu to court for each appearance is huge. In today's Nigeria, N500 million is not a small amount; I am wondering how long the DSS can justify spending such a huge sum to take just one man to court each time he has to appear before a judge," a source disclosed.
Kanu is facing charges bordering on treasonable felony instituted against him at the Federal High Court, Abuja, by the Nigerian Government in response to years of campaign for the independent Republic of Biafra through IPOB.
He was granted bail in April 2017 for health reasons but skipped bail after flouting some of the conditions given to him by the court.
His rearrest and forceful extradition to Nigeria in June this year have been condemned by many rights groups around the world.
Kanu began his activism for the freedom of Biafra as a Radio Biafra director and anchor of Biafra awareness under Ralph Uwazuruike, leader of the Movement for the Actualisation of Sovereign State of Biafra (MASSOB), who said while in a meeting in Kaduna, Nigeria on June 12, 2014, that he handed over Radio Biafra to Nnamdi Kanu, leader of IPOB but Kanu disappointed him.
💃Pass WAEC, JAMB, POST-UTME & more in One Sitting for FREE!💯
How to JAPA to the UK easily [Free Application Templates]