President Buhari promises to look into EFCC charge against Okorocha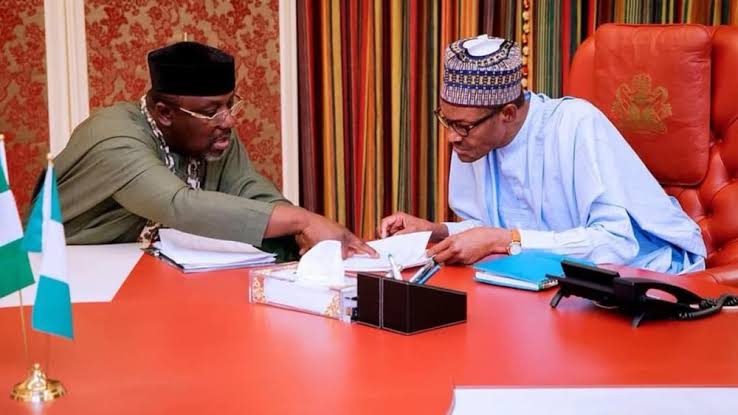 Rochas Okorocha, a former Governor of Imo state and current senator representing Imo west senatorial district has said that President Muhammadu Buhari has promised to look into the criminal charges preferred against him by the Economic and Financial Crimes Commission (EFCC).
Addressing State House reporters after a closed door meeting with the President at the Presidential Villa, Abuja on Thursday February 3, the senator alleged that the EFCC has continued to harass him in spite of a subsisting court order restraining the anti-graft agency from prosecuting him.
Revealing that he met the President in order to get justice because the EFCC is still holding his international passport, Okorocha further claimed that it is the responsibility of Buhari to ensure that justice is served on all citizens.
He said;
"The President said he would take up the matter, especially when he saw the judgment. He said, he will take up the matter and find out what is actually happening. And I hope he will do so. And I believe he will do that."
Insisting that the 17-count fraud charge against him for allegedly embezzling N2.4billion through connivance with some individuals and companies is "politically motivated", Okorocha maintained that the anti-graft agency should maintain the court order issued.
"One of the duties of a president is to protect the law of the land. And when an issue comes to an issue of judgment the duty is incumbent on the government of the day to ensure that justice is done.

"I came to demand for justice that you should prevail and as the custodian, as the leader of our nation, he should be made to know that such is going on. I didn't come here to say, I don't want to be investigated by the EFCC. That's not the issue, that there's judgment on the ground.

"There's judgment and there's order of court that I'm asking Mr. President, who appointed the EFCC to recall that there was the law that established the EFCC. And if that law is good to make somebody EFCC, that law should be obeyed, too."