Outgoing Gov Oyetola appoints 30 permanent secretaries (Full List)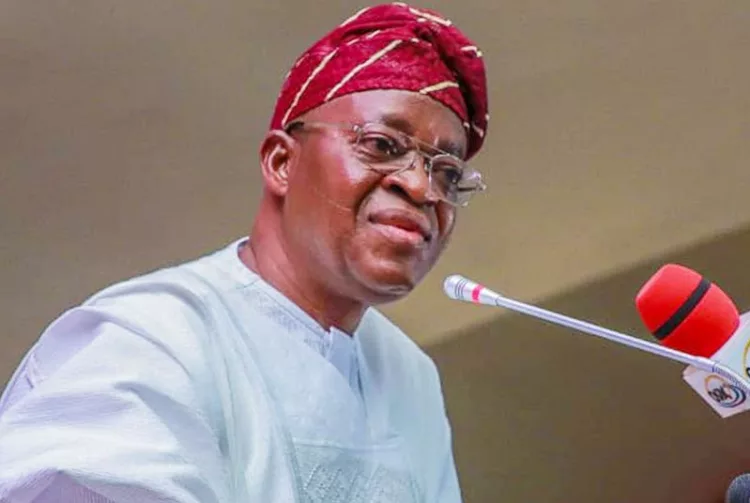 The outgoing Governor of Osun State, Adegboyega Oyetola has graciously approved the appointment of 30 Permanent Secretaries to fill the existing vacancies in the State Civil Service.
Oyetola has less than one week to vacate office as Governor.
See list below:
1 Engr. Kamoru A. Babalola
2 Engr. S. O. Ajao
3 Mr. M. A. K. Jimoh
4 Mr. R. A. Popoola
5 Dr. D. O. Ogunrinade
6 Mrs. J. K. Odediran
7 Mr. Oyesiku Adelu
8 Mr. Babajide Falade
9 Mrs. Funmilola Oyewole
10 Mr. O.A. Ogundun
11 Mrs. Bukola Aderibigbe
12 Mrs. Taiwo Oladunjoye
13 Dr.A. A Oni
14 Mr. Lekan Babalola
15 Mrs. Sola Akinsola
16 Mr. K.N. Akintola
17 Mr. J. S. Adekomi1
8 Mrs Jibola Falode
19 Mis AY Esan
20 Mrs C O Falade
21) Mr C O Fasina
22 Mrs Gbemisola Fayoyin
23) Mr MA Olawale
24 Mr SA Raji
25 Pharmacist Kunle Adebayo
26 Mr TO Akinwumi
27) Mr Richard Oyegbami
28 Mr Fatai Adekilekun
29 Mr. M.O. Obidiya
30 Engr.. A Babalola
In a release signed by Head of Service, Dr. Festus Olowogboyega Oyebade, said the swearing ceremony of the officers holds today, Thursday, 24th November, 2022 at the Local Government Service Commission hall at 4 00p.m.