#Onidurochallenge dominates social media amid Tope Alabi's backlash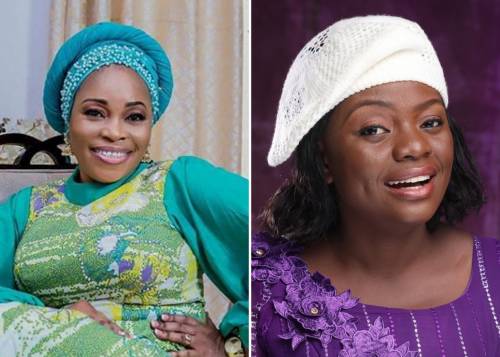 DOWNLOAD MP3 HERE
Many Nigerians on social media have started a new challenge tagged #onidurochallenge, after ace gospel singer, Tope Alabi, criticised Adeyinka Alaseyori's popular gospel song.
On Saturday, a video made rounds on the Nigerian digital space in which Tope Alabi criticized the popular Christian song, Oniduro Mi, which was sung by iconic singers, Tolu Adelegan and Yinka Alaseyori, at different times.
In the Yoruba language, Oniduro Mi simply means guarantor or support system. More so, the song exalts God as a guarantor and one who never forsakes His own.
While commenting on the song, Alabi noted that God was more than a guarantor to her as she further said that there was a time she wanted to sing the song but the Holy Spirit cautioned her against doing so.
Since the video went viral, Alabi has received knocks from celebrities and other Nigerians on social media for criticising the song.
A tweep, @Tutsy22, wrote, "Tope Alabi publicly condemned Yinka Alaseyori's Onídùró mi song, but God changed the criticism to free PR."
Well, that is no far from the case as Nigerians on social media have begun the #onidurochallenge, where people have been uploading videos of themselves singing the song.
Nollywood actress, Mercy Aigbe, and gospel artiste, Shola Allyson, have jumped on the challenge as both of them uploaded videos of themselves singing the song.
Other Nigerians on Instagram and Twitter have also taken up the challenge, uploading videos and write-ups with the hashtag #onidurochallenge. As of the time of the report, the hashtag #onidurochallenge has 100+ posts on Instagram.
Below are some reactions on Twitter.
Aunty TOPE ALABI trying to be a @AlikoDangote of gospel music. One way or the other, I believe God can't be mocked… #WoliG
— One Proud Ekiti Boi🤪 (@gbemidepoola) June 13, 2021
Highly disappointed in mrs Tope alabi she fall my hand,why do you condemn her,you think you passs God? na waiting u throw you get no caP 😳
— Paul 👑🗝️ (@paulkingdp) June 13, 2021
Even If Tope Alabi Has Issues With The Song Or The Singer Herself, I Don't Think Her Choice Of Publicly Downplaying The Song Was The Right Way To Go.
The First Time I Listened To The Said Song, The Only Meaning I Read To The Chorus/Title 'Oniduro' Was As A 'Pillar' Not Guarantor
— Alan (@Harbiodinho) June 13, 2021
Why is Tope Alabi criticizing another person's song this way in public?
If I'm correct, 'Onídùró mi' translates to 'my guarantor', how is it wrong to tag Jesus as your guarantor?
What do you think? pic.twitter.com/ZaI40OJFbj
— Man of Letters. (@Letter_to_Jack) June 13, 2021
Tope Alabi holy spirit could not tell her that Ajanaku was a cultist while she was praising him and referring to God through him in all her albalm then until Ajanaku died and was exposed and buried by occultic men. The holy spirit didn't talk wen she danced like Naira Marley guls
— David Davilis (@Davilis2015) June 13, 2021
Tope Alabi that turned Yoruba incantations into praise and worship is the one condemning another person's song?….Abegi 😔😔
— kING ð(@azeezmite01) June 13, 2021
I love Tope Alabi as a person, & I always listen to most of her songs on daily basis, but I'll never support her for what she did some days ago. I think Tope Alabi misunderstood the song titled "Oniduro" by Adeyinka Alaseyori. If you truly listen to that song, you'll be on…….
— Senior Man á (@Greenaetion) June 13, 2021
Nah! This is wrong! God manifests in different ways to different people in different situations! Tope Alabi shouldn't have done this at all! If your spirit no agree e no mean say another person spirit no need
— OLA$UNKANMI (@AdeWhaLaay) June 13, 2021
Frankly speaking, I didn't know there was any gospel singer whose name is Alaseyori.
But after Tope alabi criticised her, I've come to know who she is.
God let my enemies' criticisms become a source of blessing for me and not the other way round.
— Buhari's babe 🌚 (@faridah2202) June 13, 2021
Who is a Guarantor? A guarantor is a person who makes a guaranty or gives security for a debt. It can also refer to a person that makes or gives a promise, assurance, or pledge relating to quality, durability, or performance.
On this note! God is my guarantor! #OniduroChallenge
—
Dear Tope Alabi,
You missed this. Holy Spirit will never tell you not to sing a song that encapsulate JESUS AS A PERSON!
When Jesus stood in our place on the cross, who was He to us all? #OniduroChallenge
About Adeyinka Alaseyori
Adeyinka Alaseyori has been a blessing to her generation since childhood. As far back as age three, she has started leading her peer group in praises and events. By the time she got to High School, she had become a pillar in the church.
She began as a Choir at CAC Oke Isegun and later proceeded to Jesus The Key Christian Assembly, where she started her journey into limelight. By 2011 God established his covenant with her, which resulted to her having her ministry with less than 18 members.
Being a gospel singer her job and profession by the virtue of education was accountant by profession. She started fully her musical career in the year 2012 and currently her ministry is about 8 years as at July 2020.
She has released two powerful Albums to the glory of God and edification of men; they are: Alaabo mi and Alaseyori Mi. Having gained several audiences, she has perfectly sang different songs and those songs has torched and is torching many lives. She has enjoyed the grace of God in a diverse way and has proofed productive in different ways, glorifying God and blessing man.
👉Get ahead with Free Primary & Secondary Education Online👈
PASS WAEC, JAMB-UTME, NECO, BECE IN 1 SITTING. GUARANTEED FREE👌