How I started TheShoeShop from my room – Omolola Quadri shares entrepreneurial story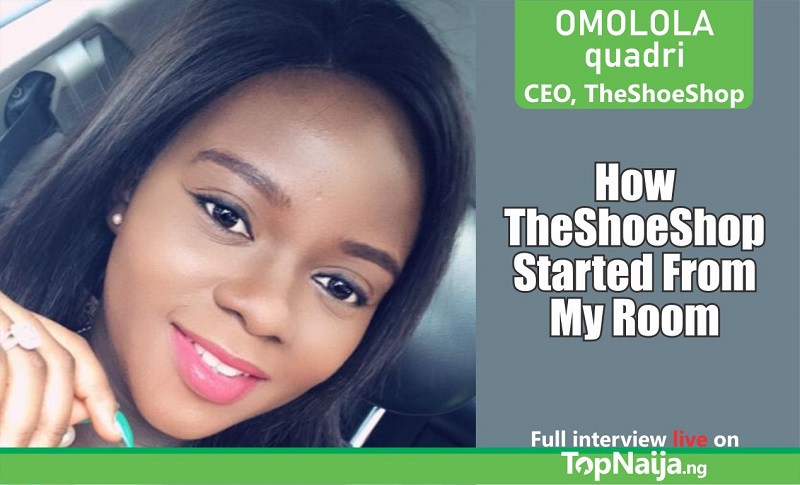 In this discerning chat with TopNaija Stories, ambitious 27-year-old Founder and Chief Executive Officer of The Shoe Shop Nigeria, Omolola Quadri, reveals how the idea for the fast-growing company, which started from her room, was birthed out of her personal need during Law School… Enjoy!
 ***
For those who may not know, who are you and what do you do?
I am a lawyer and an entrepreneur. My name is Omolola.
Before venturing into entrepreneurship, what were you doing?
I had just finished University. I was attending the Nigerian Law School in Abuja when I first had the idea to sell shoes.
Tell us about your advent into entrepreneurship. Exactly when did you start The Shoe Shop and what prompted the decision?
When I was about to complete my law degree in 2012, I realized that it meant I had to move back to Nigeria. Even though my parents had paid for my entire degree, I had worked in the summer and part time, against their wish. They wanted me to focus on my degree wholeheartedly.
I taught English to Spanish students at a Summer School in Edinburgh and I was the Student Ambassador for Learning and Teaching for the Law School at the University of Sheffield so I earned quite some money on the side. It made me realize that as doting and as generous as my parents were, I needed to start to think about how I could earn my own money.
By June that same year, when I moved back to Nigeria, I had already become obsessed with the idea of earning my own money. The Nairas my parents were giving me as allowance was nothing compared to the pound sterling they gave me while I was in England. In addition, I noticed that Abuja, while a very modern city, did not have enough retailers to meet the demands of its young, modern population.
My first 3 months in Law School, I started to pray about the business that I would do, not knowing what it was or what it could be, I just wanted to do something. Abuja held too much for me to not be a part of.
As God would have it, in December 2012, I met a guy (who would later become my husband) who was a hardworking, resilient entrepreneur. I saw how entrepreneurship could work out for a person, so I imagine that this must have contributed towards helping me decide.
I've always loved shoes. Out of all my friends in Uni, I had the most shoes. Some loved makeup and some loved dresses but I remember having so many shoes and a high stack of shoe-boxes. When I left England, I left A LOT of my shoes behind because who can carry that much load? So I had come to Nigeria almost shoeless and with the false assumption that finding shoes would be easy. And when I say shoes, I mean heels, beautiful high heels for work, for occasions and for daily wear. I attended this fair at City Park, Abuja with my friend Ezinne. My friend Ezinne and I, we attended this fair in City Park Abuja – I wanted to see if I could buy shoes. I had withdrawn about N100,000 to buy shoes to replace some of my beloved pairs. I was hoping to get up to 7 or 8 pairs.
I was really disappointed – not because there were no shoes. But because the shoes were out of style, ugly, some looked used and old and were all still overpriced. I left that place that day with only one pair of shoes. I was not happy and hoped to check some stores in the following weeks.
When I went to check out the stores, I was greeted with a new level of disappointment: big beautiful stores selling really nice clothes and jewelry but really sad-looking, overpriced shoes. I gave up, finding comfort in the fact that I would visit England soon, and shop from there.
At what point and how did you know this was the right path for you?
So one day, I was praying about this entrepreneurship thing again. I had come up with lots of ideas but none just really made me feel like YES! THIS IS IT. So I kept praying. That particular day, I was sitting on my bed praying and the Holy Spirit said to me, "Why are you still praying, the answer is right in front of you". I looked up and around and guess what was in front of me? The red ankle strap sandals that I bought from the fair I attended with my friend. And that was it. The idea for The Shoe Shop was born. God really speaks to us; God really cares about what we care about. I had had several ideas before this but it was at this point that I knew: YES! THIS IS IT.
What inspired the name, "TheShoesShop"?
I'm not entirely sure. Remember I said I was praying a lot so I reckon it must have been the Holy Spirit who ministered it to me. It was only a few minutes after I had the idea that the name came. And everyone loves the name. When I first told my younger brother, he said: "I love it because it says exactly what you do, no questions asked"
Following conception of The Shoes Shop idea, what steps did you take to bring it to fruition?
I must have had the idea early 2013 but execution was a whole different affair because I was still in Law School. My parents who did not want me to work in Uni would have had a fit if I said I wanted to start business while in Law School. But I held on to the idea until the end of Law School. I used the time between maybe March or April when I had the idea and August when Law School ended to research the type of shoes I wanted to sell and the vendors and countries who would sell to me.
We went on a family holiday right after Law School. That was where I first mentioned to my parents that I wanted to sell shoes. They were appalled and their response was very discouraging but it did not deter me. All the money that they had given to me as my holiday allowance, I used it to buy shoes. I did not by myself a single thing. Now that they see how well the business is doing, they are much more supportive and even their friends to The Shoe Shop. I never doubted their love for me even though they did not support my business idea. They are the best parents in the world.
Aside The Shoe Shop, what other business or commitment are you currently involved in?
Other commitments: I work with a civil society organization founded by my parents called Centre for Socio-Legal Studies. We work with law enforcement and criminal justice stakeholders in the areas of law reform, capacity-building and creating awareness about Nigeria's existing laws.
Business: Just The Shoe Shop. I wanted to diversify into clothes because I noticed that a LOT of people who bought shoes were asking for clothes and wanted clothes to match the shoes. I did start but it was a lot to handle. My husband, who is a seasoned entrepreneur and my number one adviser and mentor, advised me to build The Shoe Shop until it could stand on its own before committing to anything else.
You run The Shoe Shop while juggling other responsibilities alongside family. How do you maintain focus?
Support – if my family did not support me, juggling would be difficult.  My parents let me bring my kids to the office. My husband and I, and a nanny take care of the kids. Because of these, I am able to make time for my business.
Currently, where do most of your clients come from and how do you retain them?
40% Social Media
20% Repeat customers
20% Google Search
20% Word of Mouth
Which marketing strategy has proven to be the most effective for The Shoe Shop?
Being nice to clients and prospective clients is the most effective way to get them to come back. We also pride ourselves in using high quality photographs on social media which get the attention of a lot of people.
Where do you source your shoes from and how profitable is shoe business in Nigeria?
Our shoes come from England and the United States. In 2017, we started a Made in Nigeria line, which we are expanding this year because of how well it has been received.
When I first started scouting for shoes for myself in Nigeria, before ever having the idea for The Shoe Shop, I was appalled at how ridiculously priced most of the shoes were. One of the goals set out for The Shoe Shop was to sell beautiful shoes that matched with affordability. Being focused on this goal means that we are unable to sell shoes as expensive as some of our competitors. This does not mean the business is not profitable but it means that the we thrive on making greater profits by selling volumes as opposed to a huge profit margin on single pairs.
What's your current staff strength?
We currently have 5 people who work with us right now – 2 in logistics, 2 in operations and 1 in management.
Tell us about one of the toughest situations you've found yourself in as a business owner, and how you overcame it.
One of the toughest times for us was 2015 when the Naira crashed so badly against the United States Dollar. One of the weaknesses of a business like this is dependence on FOREX. I really wanted to close down the business and focus on my life as a lawyer. But I'm so grateful for my husband. He was my fiancé then and he had solid words of advice to offer. I was so reluctant to increase prices because from day 1, the business was intended to sell affordable shoes. I asked myself: "What business are you running if the shoes were no longer affordable?"
Ayo (my husband) explained to me how affordability is relative to what the economy dictates. When the FOREX was better, the prices were affordable according to the favourable FOREX; when the Naira crashed, the prices would still be affordable as is relative to the new FOREX rate. He insisted that I should "NEVER GIVE UP; the shoes are good, people will still buy. And if you quit, your customers will be looking for you. Who will sell shoes to them if you quit?"
He was right. The business has thrived in spite of that and God has been undoubtedly faithful. One must indeed never give up. When I thought it could only get worse, it got better. God planted in my heart the idea of introducing the Made in Nigeria line which would not depend so heavily on FOREX rates.
Is there anything you wish you knew about entrepreneurship before you got started?
If I had known how well it would work out for me, I would have started much sooner. I spent a lot of time telling myself that "I am not really a business person by nature".
If you were to start The Shoe Shop over again, what would you do differently?
I can't think of anything that I could have done differently in the beginning. But in the past 3 years, being pregnant has made it difficult be consistent and to be actively developing the business. I spent a lot of my pregnant time being ill. So I guess that I would outsource and delegate some more, looking back at these years.
What part of your job keeps you awake at night?
Right now, I'm just thinking about how best to get the numbers up. I developed a business strategy for the business this year, and I have already started to see the outcome.
What new innovation have you introduced to your business?
We are the only retailer that I know that offers a made in Nigeria line as well as imported shoes. Most of our competitors do either one or the other. In addition, we actually have a functional website which is advantageous because we can receive payments at anytime of the day without having to first talk to the client or physically receive the client in the store.
What's the game plan for you in 5 years? – Personally and in business?
Well I would like to be done with having kids first of all.
Then for The Shoe Shop, we have a huge warehouse in the works. I say warehouse and not store because the plan is to have Nigeria's largest and most patronized website for shoes and not necessarily a shop. It's 2019.
Name three traits required to survive in this role.
I am kind. I have kindness in my heart; so it helps me to understand customer service without going to any business school. I have that ability to empathize with people which trait positions me to best take care of our clients.
I never take no for an answer. I am resilient and willing to keep trying again and again, even if its in a different way.
I am not doing this for the money. Although the money is an added advantage, The Shoe Shop was born out of love for shoes and a desire to meet a need that I once had and envisage that others also have.
What is the biggest misconception about your job?
That I'm rich already.
Who has had the greatest impact on your career and why?
My husband. When I first started, he was still my boyfriend. Because of his status as a seasoned entrepreneur, he has been my number one mentor, adviser and role model. God gave me 2-in-1—a husband and mentor. The words of encouragement and advise he gives me stick with me and always turn out to be true. His experience is my best teacher. 
What is the best career advice you've ever received?
Until your business can function in your absence, you have not yet built a business – My Husband (2016) LOL
The top reason for your business success?
We try our hardest to treat every customer like they are the only customer.
What's your number one tip for new entrepreneurs?
Get back up again.
By what time in the morning do you like to be at your desk?
I try to avoid having a desk to be at. Being routine and following a set structure somehow blocks my creativity. I am at my best self when I have no set rules or routine. I flourish when I just let myself be.
Your favourite job interview question?
This one you just asked. Lol.
The biggest perk of your job?
I get to see and try on all the new shoes first!
What does money mean to you?
Money means the ability to give to others. I notice that the more money I have, the more money I give. I pray to have more than I need so that I am able to give immeasurably.
Best investment advice you ever received?
I know I mentioned my husband a lot already but I am about to do it again. He is my role model. He told me once: When you first start a business, your biggest concern should not be making money for yourself to spend but making the money that you can reinvest in the business to help it expand.
What gives you the greatest fulfillment?
Running into a client and seeing that her shoes are from The Shoe Shop
Which business achievement are you most proud of?
Our website! Websites are really easy when what you provide is services – not much to change/update regularly. Websites are also really easy when you have a lot of money at your disposal. It took blood, sweat and tears but thanks to Austine of Amani Art and lots of my own sleepless nights, and my husband's support and encouragement, the website is functioning and updated.
Describe your greatest weakness as an entrepreneur.
I am obsessed with doing everything by myself. It was not until 2017 (4 years after starting up) that I summoned the courage to employ my first staff. I used to drive around Abuja by myself making deliveries. I wanted to offer free delivery and the cheapest way was to do it myself. My husband encouraged me (in 2016) to engage a logistics company. I refused for a long time, until the orders became too many. Like I said earlier, he's always right.
Which popular entrepreneurial advice do you disagree with?
I generally dislike the idea of taking loans to start up businesses. Of course, there are situations in which it is generally inevitable but I would always rather advice that the entrepreneur start small but keep reinvesting their profits into the business the ensure its gradual, organic growth. But this is just my personal opinion.
Outside your industry, name one untapped business opportunity you'd love to explore?
I would love to manufacture home interior decor accessories – like artificial potted plants, centerpieces, scented candles, and so on.
Who are your role models? Name three people who inspire you and why?
My husband… I have told you why too many times.
My parents, just because of how much they love and support me and how well they have built their own law firm.
And my children, seeing them in their amazingness inspires me to want to be the best role model they could ever have.
Currently, how young is Omolola Quadri?
I'll be 28 in June 2019
If you could, what would you tell your younger self?
Omolola, ji masun (Omolola, wake, don't sleep)! LOL
How do you unwind?
Buying new shoes to restock helps me to relax and to feel good. Afternoon naps are also great for me.
Your candid advice for young African entrepreneurs?
"They were right when they said start small but dream big."
Leverage social media to make more money and grow your brand in 2019! Attend The Social Media Wealth Masterclass with Isaac Click here to ENROL NOW!
Follow us on Instagram
|
Advertise With Us
|
Send Us News Tips
|
Promote Your Music
Ituah Ighodalo speaks on why God allows bad leaders, marriage and more
Founding Senior Pastor of the Trinity House and managing partner of SIAO, Ituah Ighodalo, speaks to JOY MARCUS about life, business and love
As the General Overseer of Trinity House Church, what are some of your responsibilities?
My key responsibility is to give the church vision and direction as led and instructed by God. God has a purpose for Trinity House. My job is to receive from God what the mission and purpose of the church are and communicate with the people. The second responsibility is to lead the people into the worship of God, because God is a spirit and they that worship him must do so in spirit and in truth. My third responsibility is to be a shepherd to the flock, to look after the flock and make sure that they are alright and their needs are met. So, after a very exhausting service, the sheep come and I listen to them, and try my best to take away the issues that are bothering them. Then, I try to solve those issues because as a pastor, you must have a very good listening ear, compassion and patience for God's children.
As an accomplished accountant, how do you combine the demands of the church with that of your profession?
I take life one day at a time and life is a collection of activities in a serial fashion. When it is time to do accounting, I do accounting, and when it is time to pastor I do just that. There is a time for everything and none disturbs or affects the other. Also, an accountant is like a shepherd to a company. So, even the skills are similar. It is just the market that is different. I am still in active practice as an accountant. I am a managing partner of SIAO which I run with two major partners and a few associate partners. We are about the fifth largest accounting firm in Nigeria today.
As the manger partner of SIAO, what are your responsibilities?
I am a managing partner; so, I am like the pastor of SIAO also. This means I look after SIAO and cast the vision. I look after the staff, get jobs and clients and I allocate responsibilities to members of the team. We have a board of partners, and a gentleman, called Robert Odiachi, is currently the chairman of the board. However, we do rotate this position, and Odiachi is formerly the managing director.
What was the reaction of your family members when you told them you wanted to go into full-time ministry?
To be honest, I didn't tell them. I just went into it and they heard. When I got into active ministry, I wasn't married; so, I had no wife to discuss with. My wife met me in ministry; she had to take me as she met me. Also, I had nobody I was accountable to. When I got into ministry actively, my parents were already old. I can't even really say the exact day I got into active ministry. It just happened bit by bit and I got more involved. The key person that prayed for my salvation was my mother, and God answered her prayer. That was how I became born again. However, she got more than she bargained for because I am sure she never thought I would become a pastor. All she wanted was for my soul to be saved. As a nominal Christian, I was a very active person – socially and economically. I had a lot of energy; so, as soon as I became born again, I switched my social energy into Christian energy and very quickly, I started doing things because I was very passionate about God. I believe that God really had a purpose for my life.
What was your experience during the first few years of ministry?
Ministry crept on me; it wasn't a bang. I got born again in 1993 and I became a worker in Freedom Hall. When you become a worker, you do things like ushering, holy police and chorister. I went through that and very quickly, I became an assistant pastor. I started assisting our lead pastor at that time, Tony Rapu. Then, I was put in charge of international evangelism and travelling the world, starting churches and supporting church growth. At a point, I was also in charge of the General Overseer's international protocol. So, whenever he wanted to travel, I made his travelling arrangements. I had one responsibility after the other. Then one day, a co-pastor suggested to me that I take over the parish he had started in RCCG called Christ Church because he wanted to relocate to the United States. He wanted somebody he thought could handle the church very well. When he made the suggestion to me, I initially refused but after praying and hearing from God, I started as pastor in charge of the church. That must have been about 1999.
Since you left the Redeemed Christian Church of God, are you still close to the General Overseer, Pastor Enoch Adeboye?
Definitely, we are very close. We were close then and we are still close today.
But there were rumours that you had a misunderstanding?
As far as I'm concerned, we had no misunderstanding. He just gave instructions through the board of trustees that they wanted me to stop pastoring Christ Church, and I left.
What can you remember about your mother, Folayegbe Akintunde-Ighodalo, the first female permanent secretary in Nigeria?
I am very fond of her. There is almost no day I don't think of my parents. I have many fond memories of her. I was a sickly child who used to suffer from asthma. I was so attached to my mother that if she travelled, I would have asthmatic attacks. In those days, whenever she came back from work, I and my brother would stay by her side and be pulling her cheeks. My mother was very strict but also very loving. One day, she got tired of us hanging around her and she drove us to the bedroom which ended that. She then woke us up in the morning to do our house chores. We thought she was too tough but she gave us independence very early. I started driving at the age of 14. Sometimes, I even took her on journeys. She was tough but she also gave us freedom. She taught us ethics and morals to behave rightly. Also, she allowed us to take decisions about our lives. All the decisions I made about the schools I went to or the courses I studied were never influenced by any of my parents.  They made suggestions, no doubt, but they allowed one to make one's own decisions. My father was also strict and morally upright. But he was a gentleman who was firm about how things should be done.
Who did you take after?
I have a combination of both. I have my father's gentleness, while I have my mother's drive, energy, fearlessness and determination. My father was also a courageous man. He could face anything and was a real hero but he was very quiet about his own.
As one of the top pastors in Nigeria who mixes with the crème de la crème of the country, would you say it is easy convincing the leaders in the country to change their ways?
A lot of them are gospel-inclined these days. You also have to understand that many of them have been my friends since childhood. We just didn't become friends yesterday. We were friends as teenagers and young men struggling together to make headway in life. We were also part of one another's lives. It is just that destiny has taken every one of us to different levels. One of my jobs is to support them and speak truth to power. I think a lot of them acknowledge the fact that if they want counsel, support, honesty and forthrightness, they can talk to me. They always hear the truth from me. A lot of times, they take the advice but sometimes, when people are powerful and are surrounded by a few less powerful people who kowtow to them, they could get carried away. However, people like us are there to pull them back gently and remind them of where they are coming from. All we want is for the country to grow, for every single Nigerian to have opportunity to be who God wants them to be, and to allocate our resources to educate every Nigerian.
Do you have any interest in politics?
I have a lot of interest in leadership and the process of attaining leadership. As of today, I am not an official member of any political party but I am interested in working with people who are in power and are interested in getting into the service of humanity in any way. I work with the Peoples Democratic Party, the All Progressives Congress and some other political parties; whatever it is, as long as they are serious people who will serve Nigerians. You know the Bible says that the king must serve the people. The advisers of David told Solomon that if he serves the people, they will eat out of his hands and love him. A lot of our leaders are not ready to serve the people and that is why society is in its current state.
If you were to be president, what would you do differently?
If I were to be president, every Nigerian will be educated. That is a sine qua non because without education in this day and age, no one is going anywhere. Secondly, every Nigerian will be fed because there is more than enough food and the potential to grow food in Nigeria, than for anybody to go without food. Also, every Nigerian will have access to basic health care. It may take time to ramp up to complicated health care but it will be basic health care. It won't be free of charge but it will be affordable. When you have these three fundamentals and there is freedom of expression, then you have a basis to build a society and nation. Then, you start talking about infrastructure and amenities. There are more than enough resources in Nigeria for everyone to be a millionaire. All we need to do is unlock the tap and allow people access to the resources that God has already provided.
What role do you think the church can play in ensuring that the country moves forward?
The church has a very significant role to play in any society. Even in England and America, their constitutions are based on the Bible. Most constitutions in the world are derived from the British constitution. The major role, which the church should play, is to teach people the ways of God; then, to tell the leaders and the rulers what God is saying. That was what Nathan said to David and that has always been the way God moves. The role of the church is to anoint the king. What judges do today by swearing in people to office used to be done by the church. Till today, the Queen (of England) cannot assume that position unless she goes to St Paul's (church) and the Bishop of Canterbury anoints her as Queen of England. It is the church's duty to anoint and pray for the leader, and to give the people hope. Meanwhile, that is what a lot of churches in Nigeria are known for doing now. They talk about hope in such a way that it is almost motivational.  There is no leader who can win without giving hope. Winston Churchhill won the Second World War for Britain by giving hope and encouragement to the people. A bit of that is lacking in Nigeria today and that is why the people want to hear from their leaders. Sometimes, God raises bad leaders to teach the people a lesson. Also, the church must work with and support the government. In those days, churches provided schools, hospitals, basic health care and feeding of the poor. So, the church must continue to set up schools and hospitals. People like Mary Slessor and Mother Teresa were church people supporting the government. Most of the first schools in Nigeria were started by the church. The CMS Grammar School, Freeman and Baptist Academy, Methodist Boys High School and St Gregory's were all founded by the church.
Before now, the church was the succour for the hopeless, where they believed that they could be safe but it is no longer so as worshippers run the risk of being kidnapped or killed in the process of serving God. Why do you think these things are springing up these days?
There are different reasons for these attacks. I recall that some time ago, there was an attack in a church in a part of the country. I don't know if it is true but I learnt that the attack was gang-related. Sometimes, some of our members don't behave well and they think they can hide in the church. Then, there are attacks caused by religious intolerance. I think there was a church in Sri Lanka that was bombed and a mosque in New Zealand was attacked too. Now, our people are whipping up a lot of religious sentiments because there is the thinking that some certain religions want to dominate others and influence the world. So, there is a lot of tension everywhere which is leading to attacks on the church. Also, because of the profile, image and attitude of some of our pastors, who are now becoming larger than life, some people think that churches are very rich so they can enter the church and take some of the belongings of the church or kidnap the pastor and take some of his belongings because of his lifestyle. These are some of the fundamental reasons why there is a bit of attack both on churches and sometimes on pastors.
In retrospect, is there anything you would love to change about your life?
I wish I had become born again a bit earlier so that I would know the ways of the Lord better. However, a lot of the things I suffered and experienced outside of Christ have helped me to become stronger, more compassionate and more understanding. When I talk about marriage, it is not theory. I have gone through the pains of marriage. And when I talk about poverty and owing money, it is not theory because I have owed money before. When I talk about sickness, it is not a theory because I have been sick and almost died before. When I talk about fear, anxiety and depression, I have gone through that and many more. What happened to David in the Bible, when Saul was trying to kill him, has happened to me before. My bosses and mentors have come after me. So, it makes me an all-round person. The pain wasn't easy but today, I look back and I am thankful because I have a lot of empathy for people who are going through all sorts of things. I don't preach theory, I teach practical things. I don't judge anyone because sometimes, you are not in control of your environment and things may overwhelm you. I listen to people and advise them. I don't condemn because God has not condemned. People find it easy to talk to me because I am a very good listener and sometimes, the only therapy anyone wants is to be listened to. By listening, you could make someone happy and stop the person from committing suicide.
If you could wish for anything, what would it be?
I wish life would be better for every human being. Anywhere I go, I like to see people do better and fulfill their potential. Some people are surprised when I have time for the poor and weak. The drug addicts and those society has condemned are some of my best friends. We talk, laugh, joke and I help them. Although sometimes they can be a bit annoying, we keep going. I will rather allow people to cheat me than face the fear of not helping someone. I pray that God gives me the resources to change the world.
What is your philosophy of life?
Every day is a gift and every day lived means that one's life is a day shorter. So, take each day, thank God for it, do your best and move to the next.
What do you do for fun?
I play with my children, watch television and sometimes, I go on vacation. My life, my work and ministry are fun because I enjoy what I do tremendously.
Do you consider yourself a romantic person?
Let's not say romantic. Let's just say I care very much for my wife and I do all I can within my capacity and resources to make her happy.
What is the most pleasurable gift you have ever given her?
She will be the one to say so because I don't know which one out of the gifts I have given her is pleasurable.
Do you think men of God are too holy to talk about love?
Love is the highlight of holiness, and it is expressive. For God so loved the world that He gave His only begotten son. I show my wife love publicly. I hug and kiss her and she sits on my laps. We play, laugh, hold hands, and tease each other. We are friends and there is nothing within my power that I will not do for her. And I think there is nothing within her power that she will not do for me. I really don't expect anything from her, but she is very generous.
Leverage social media to make more money and grow your brand in 2019! Attend The Social Media Wealth Masterclass with Isaac Click here to ENROL NOW!
Follow us on Instagram
|
Advertise With Us
|
Send Us News Tips
|
Promote Your Music