Okada Ban: Panic in Ogun state as motorcycle riders increases overnight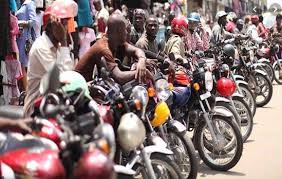 Panic grew among residents of Ogun State as the Okada riders troop into the state after they had been banned in Lagos state.
The Lagos State government had orderedthe ban of okada riders in the state and that was effective from Tuesday, 1 June, 2022 in six Local Government Areas and Local Council Development Areas of the state.
The affected areas include Ikeja, Surulere, Eti Osa, Lagos Mainland, Lagos Island and Apapa.
However, since the announcement and enforcement, Giwa, Oke-Aro, Akute, and Agbado Crossing have witnessed the influx of okada riders, mostly northerners, thereby causing panic among residents of these areas.
According to residents of Giwa Oke-Aro in Ogun State, they can no longer sleep with their eyes closed for safety reasons.
Abiola, a resident of Morgan Street, Giwa, said the community must find a way to resist the influx of the okada riders, mostly Hausas.
"We now live in fear in this area. Before Lagos banned them (okada riders), we have mostly Yorubas plying these sides. Now, that has changed.
"If you look around now, before you see one Yoruba rider, you would see 15 Hausas.
"We no longer feel safe and we can't sleep with our eyes closed because anything can happen at any time," he said.
Another resident of Matogun, Mr Rafiu, blamed the influx on the leadership of the okada riders in the area.
He said, "The leadership of the okada unions here are just greedy.
"It is about the money they can get. Yesterday, I counted over 47 Hausa riders.
"This is scary. I have lived here for over 30 years but for the first time, I really don't feel safe. Help us tell the authorities that our lives are in danger."
Mrs Oguntade from Olambe shared the same views, she said, if people are not careful, the unfortunate incident that happened in Lekki (killing of a sound engineer) might repeat itself.
"Have you seen anywhere these people are? It is always trouble. They will soon start claiming boss on people in this area.
"Additionally, they are lawless and have no regard for human life.
"I am calling on our people to stay alert. We must not allow them do what they did in Lekki here.
"How could you burn a human being because of N100? I don't even understand," she said.